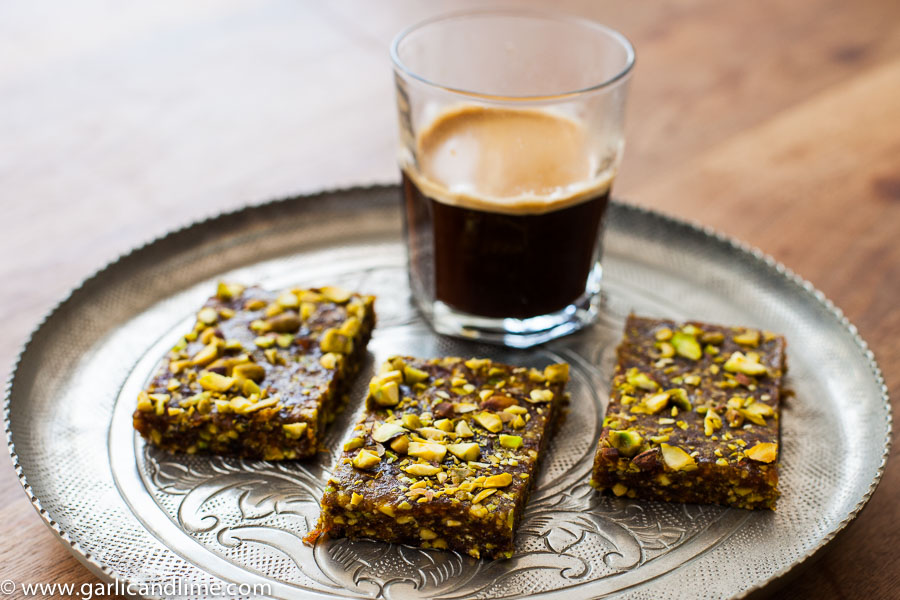 We didn't enter a wholefood lifestyle to lose weight. We started looking after ourselves better to improve our health and start feeling better. But the consequence has also been that as we have taken out the junk, the processed food, and the fried food from our diets, our weight has also dropped. But we also don't want it to drop too much or too fast.
That is where a little bit of healthy snacking comes in. But most shop bought snacks have ingredients I don't recognize, or sugar that I don't want to eat. The alternative are pretty expensive raw snack bars. As a result, we have taken to making our own snack bars and keeping them in the fridge. I make one or two batches in the weekend (which takes me less than 10 minutes) and they keep all week. Given that they are all dried ingredients, they should actually keep quite a long time, but they have never last longer than a week in our house to find out.
These snack bars are inspired by the flavours of Turkey. Rich pistachios and almonds are bound together with the sweetness and stickiness of dates. They are a great snack to keep in the fridge and snack on with an espresso or on its own.
Ingredients
1 cup pistachios
1 cup dried apricots
1 cup dried dates
10g extra pistachios, chopped, for garnishing
Directions
Place the pistachios in a food processor with the metal knife blade inserted. Pulse until they are finely chopped.
Add the apricots and dates to the food processor and turn the speed up to a medium speed. Process for about 1 minute until the fruits and nuts are all finely chopped and start to stick together.
Grease a metal tray with a little coconut oil. Pour the mixture onto the tray and press down firmly with your hands to form a large square / rectangular shape. You need to press quite firmly to press all of the mixture together.
Chop the extra 10g (a small handful) of pistachios and sprinkle over the top of the bar. Press down into the mixture with your hands firmly so that it sticks into the bars as a garnish
Place in the fridge for an hour
Cut into bar shapes and store in an airtight plastic container between layers of greaseproof baking paper.
Music to go with it…
Listen on Spotify: