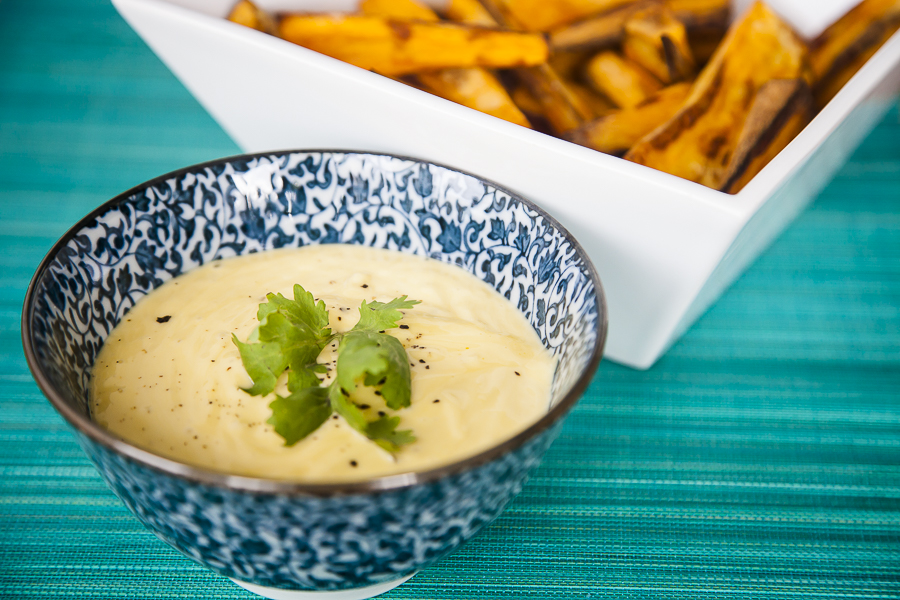 Sweet potato chips (fries) cooked in our Air Fryer has become a regular feature of our meals. This weekend we were looking for something different to spice them up, and decided to make Garlic Aioli at home using all natural ingredients.
Ingredients
3 garlic cloves (less if you like it less garlicky)
1 large egg (preferably organic)
1 Tbsp freshly squeezed lemon juice
1/2 tsp sea salt
freshly ground black pepper
150ml extra virgin olive oil
Sweet potatoes
Pinch of Sea Salt
Directions
Cut the Sweet Potatoes into chips (fries) shapes and put into a bowl.
Sprinkle 1 tsp of coconut oil over the bowl of fries and toss them to coat in the coconut oil.
Add to the Air Fryer basket and cook at 200 degrees C for 15 minutes until golden and cooked through.
Meanwhile, place the garlic, egg, lemon juice, sea salt, and pepper in a food processor or blender
Using the metal blade of the foodprocessor (rather than the plastic one) blend all of the ingredients
Add the olive oil while the blender or foodprocessor is running in a slow stream. You will probably need to take the shoot out of the foodprocessor, or leave the cap off the blender in order to be able to add the oil while the foodprocessor is running.
Blend the aioli until it has formed into thickened emulsion.
Serve the sweet potato fries, with the Garlic Aioli.
Music to go with it…
Listen on Spotify: Intergalactic Lovers – Little Heavy Burdens