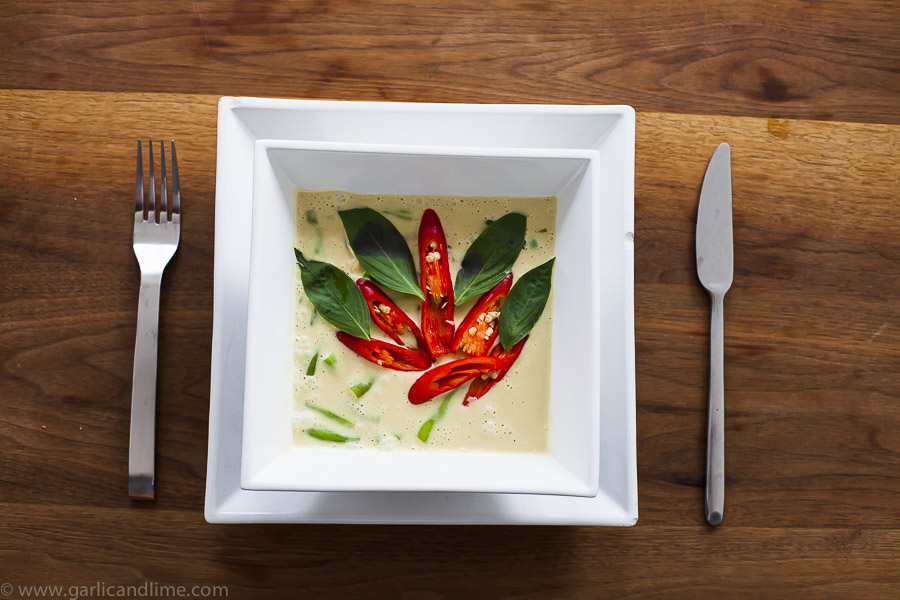 This is a basic Thai Green Curry paste recipe that can be used as the basis to make Thai green curries with any number of fresh vegetables, chicken or other meats, such as our Thai Pumpkin and Mushroom Curry and Thai Green Chicken Curry.
Ingredients
15 medium green Thai chillies
1 tbsp fresh galangal
2 tbsp lemongrass, finely chopped
1 tbsp zest of kaffir limes, chopped (substitute with zest of regular limes if not available)
2 tbsp scraped and chopped coriander root (from the stems of fresh coriander)
3 tbsp red shallots, chopped
2 tbsp garlic, chopped
1 tsp chopped fresh turmeric
1/2 tsp coriander seeds, roasted and ground
1/2 tsp cumin seeds, roasted and ground
10 white peppercorns
1 tsp shrimp paste (substitute for fermented tofu in brine for a vegetarian / vegan version of this recipe)
Directions
Put all ingredients in a blender – except the shrimp paste – and blend until smooth. You might need to use a little water to get the blending started. Never use oil in your paste!
When the paste is smooth, add the shrimp paste and blend a little more.
Use or store in a glass container in the fridge. Will keep for a few weeks.
Music to go with it…
Listen on Spotify:  Emily Rice – Find Me Here