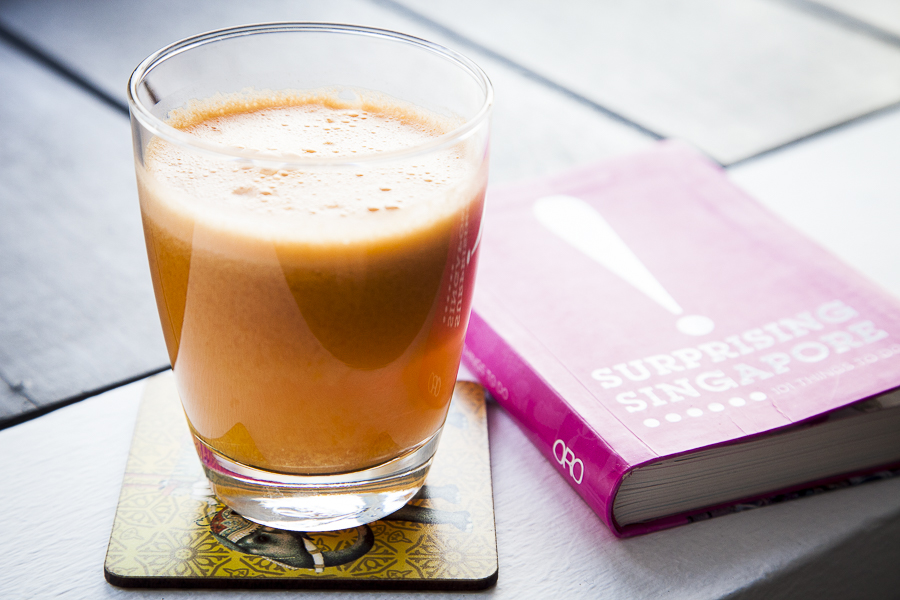 One of the joys of living in Singapore is the perpetual summer, and the abundance of tropical fruits. This juice was the perfect accompaniment to browsing through a Singapore guidebook to find our weekend excursion destination.
Ingredients
3 carrots (whole, unpeeled, washed)
1 guava (whole, unpeeled, washed)
1 pineapple
1 lime (whole, washed)
2 red apples (whole, unpeeled, washed)
Centrifugal or slow juicer machine
Directions
Cut off the top and bottom of the pineapple. Cut off the tough exterior, and cut the pineapple into quarters so that it fits into the juicer tube.
Wash the skins of the other fruits, and cut them only if required to fit into your juicer tube.
For a centrifugal juicer, turn the juicer to speed 1 (slowest speed). Juice the pineapple, apples and guava.
Turn the juicer up to speed 2 (fastest speed). Juice the carrots and lime.
Turn off the juicer. Stir the juice to combine the fruits.
Serve over ice straight after juicing. Including the lime ensures that the apples will not turn brown quickly, so it will keep for a few hours if you prefer, but it never lasts that long in our house.
Music to go with it…
Listen on Spotify: Gregory Isaacs – Night Nurse