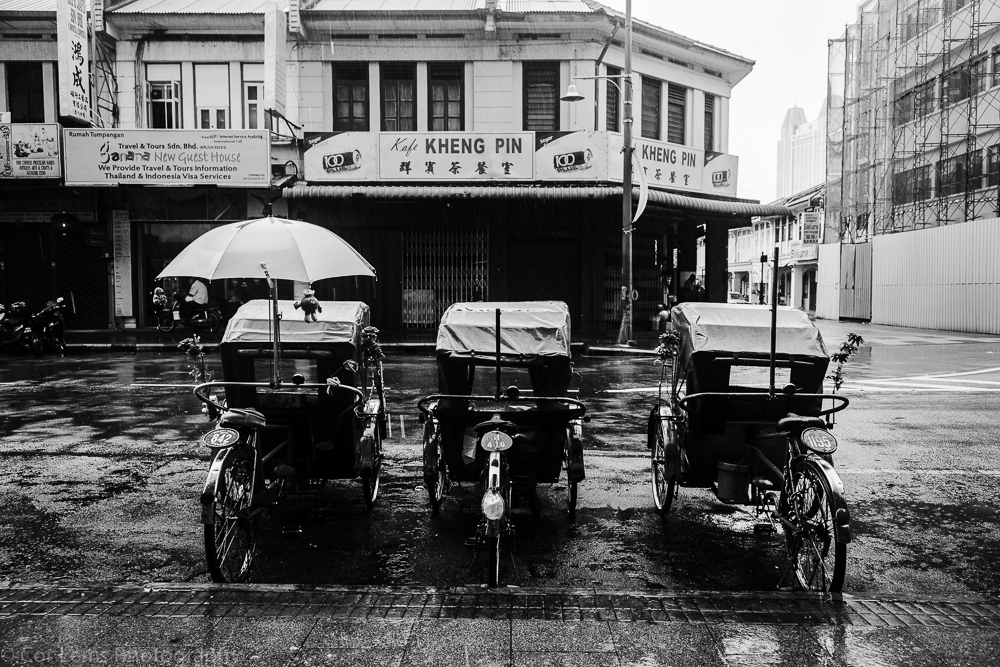 Georgetown: a melting pot of cultures
Originally established as a trading post by the British, Georgetown (Penang) attracted a melting pot of traders. Like Singapore, Georgetown has its heart in Malaysia, but also drew a community of Chinese traders, and like Singapore these too are Straights Chinese or Peranakans (Nonya's).
Indians – both traders and workers – also came to George Town, and built a community. Dominated by Muslim and Hindu Tamils, but also home to Gujaratis, Malayalams, Bengalis, and Indians from other parts of India. They built a community that still exists (and is protected in its existence) until today.
It is this unique blend of cultures within a relatively small area, and the historic buildings that symbolize their long term co-existence that has made George Town into a Unesco World Heritage site (since 2008). In announcing its entry into the list of World Heritage sites it was described as an "inspiration" to others how this melting pot could co-exist and thrive for so long. Long may it last.
Coffee Atelier Hotel
We booked in to stay at the "Coffee Atelier" in George Town. It is right in the heart of the Old Town (47 Lorong Stewart Street), and housed within the walls of a former shop house that has been restored and converted into a restaurant and 4 apartments. Our room included a large main room, and a separate single bed for our son in an adjoining ante-room. Free wifi was also included.
While it was a little noisy (old buildings don't tend to have the best sound proofing) it was the perfect place to stay in such a historic town. Just down the road was Little India and China Town, the Kapitan Keling mosque, Sri Mahamariamman Hindu temple and Chinese temples.
Downstairs is also a Coffee Atelier cafe which serves delicious coffees, including latte art. It was a great place to enjoy dinner after a day of walking in the city, and breakfast at the cafe was included in the hotel price.
Obsessed with Food
This similar melting pot of cultures to Singapore, means that the food also shares common origins, and George Town seems to also share its obsession with food. In fact it is the food, as much as the buildings, that will remain with us as impressions after we leave.
Tek Sen Restaurant
During our stay we enjoyed cheap and delicious Chinese food at Tek Sen Restaurant in a converted shophouse (18 Lebuh Carnarvon). While the restaurant is anything but fancy, with plastic tables and chairs, the food was delicious and very affordable. Shortly after 6pm a sizable queue had formed with locals waiting for their dinner on their way home from work – always a good sign!
Seven Terraces
Our dinner at Seven Terraces hotel in the Kebaya restaurant (Lorong Stewart) is perhaps at the other end of the scale in terms of price, but still reasonable compared to eating in Singapore or Amsterdam. It uses French techniques fused with Indonesian and Straights Chinese flavours for a refined dinner on good linen with beautiful china crockery. The 4 course degustion menu is designed to be shared in the Chinese style, exactly the way we love to eat.
Seven Terraces is across the street from the Coffee Atelier, and is also a nice alternative for a hotel if you are looking to stay in the historic centre but go a little upmarket.
China House
China House was a great little place that we discovered by accident, but went back to eat at twice. It is a great option for lunch after you are finished exploring Lorong Chulia and the Street art around Lebuh Armenian. Located at 155 Beach Street, it serves Western food with a diverse set of Asian and Middle Eastern influences – Fusion food. Think Thai Style Chicken Salad with Macademia Nuts or a daily special menu of asian flavours served in a bento box.
I love it that they put paper down on the tables and encourage you to draw on them – something my son thoroughly enjoyed!
Out and about around Georgetown
The advantage of staying in the middle of the historic centre is that there is so much that you can do on foot.
On the first day, try exploring the area around Lebuh Armenian and Lorong Chulia. They are great places to wander and poke your head into boutiques. Also look out for the street art in the side streets around this area. There is a free street art map that you can pick up at many hotels.
The Clan Jetties near the end of Lebuh Armenian on Pengkalan Wald are also worth exploring, but please do respect that people live here and that you are visiting their homes.
Those interested in Chinese History can visit the home of Sun Yat Sen at 120 Lebuh Armenian. Considered one of the father's of modern China, he led the Chinese revolution to found the modern Republic, and served briefly as the President of China. He lived in Georgetown in exile for 6 months.
On the second day, try going in the other direction towards the Eastern and Oriental Hotel (Lebuh Farquhar) to stroll along the coast and enjoy a high tea. Not far away is Chong Fat Tze historic home (Leith Street), and the Hainan Temple (Jalan Muntri). There are many eating choices on Jalan Muntri for lunch. End by exploring the little shops on Love Lane.
Logistics
Our trip to Georgetown was for a long weekend (4 days) while we were living in Singapore. You could consider this as part of a longer trip to Malaysia as well if you are living further away. We flew from Singapore to Penang with Jetstar, but Tiger Air, Air Asia and Silk Air also all fly this route. We arranged a taxi through the hotel to collect us from the airport and take us to the hotel in Georgetown. It is a 16km journey which takes 20-30 minutes depending on traffic and costs 35-40 Malaysian Ringgit.
We had a great time in Georgetown. It was an easy long weekend destination that can easily be enjoyed on foot. The diversity of the food and street art were definitely highlights.
---
You might also like: