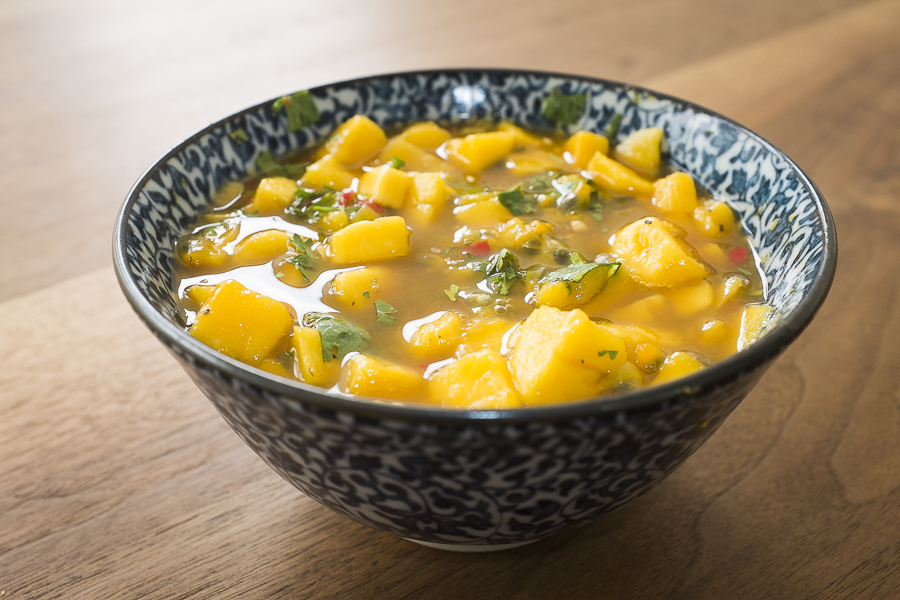 This salsa is sweet with a spicy bite. Delicious with sweet potato cakes, or as a topping for chicken, pork or white fish such as barramundi or cod.
Ingredients
1 ripe mango, cut into small pieces
pulp of 2 large passionfruit (or 3 small passionfruit)
juice of 1 lime
pinch of salt
freshly ground black pepper
2 Tbsp white wine vinegar
1 Tbsp balsamic vinegar
1 red chilli, de-seeded and finely chopped
handful of fresh coriander, chopped
Directions
Put all of the ingredients except the coriander in a bowl and stir well to mix. Don't blend it, you want it chunky.
Put in the refridgerator for 30-60 minutes. This allows the flavours to intensify.
Top with the fresh coriander to serve
While this recipe will start to intensify after an hour, leaving it overnight is even better. We often make enough for a second dish and leave it covered in the fridge for up to a week (the vinegar will preserve the fruit).
Music to go with it…
Listen on Spotify: Intergalactic lovers – Little Heavy Burdens