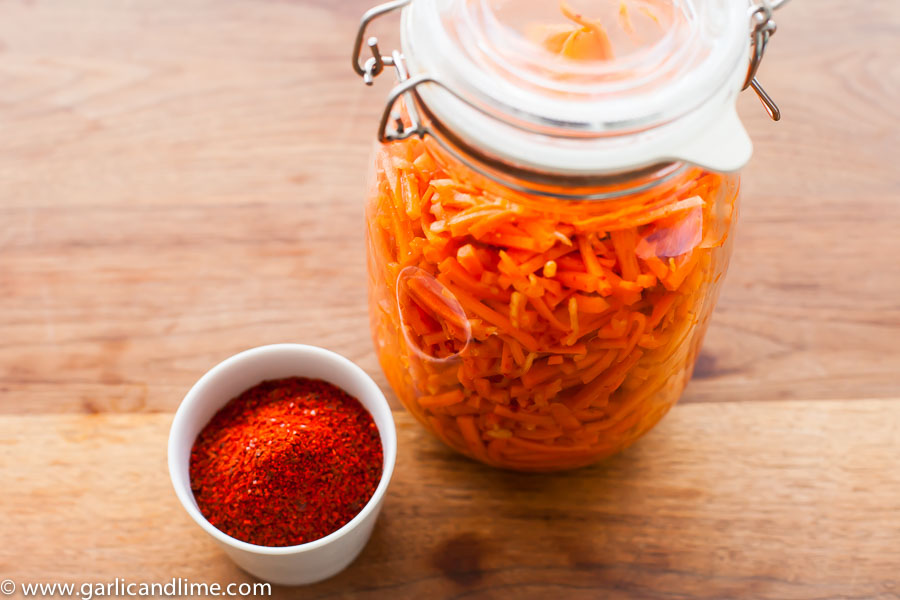 No Korean meal is complete without a side dish of Kimchi. It is a national obsession, and rightly so. There are many health studies which show the benefits of this fermented wonderfood!
We have a favourite little Korean BBQ restaurant here in Singapore, and they serve a trio of Kimchi's. This got us investigating what other Kimchi variations we could make, including this carrot Kimchi.
Chopping the carrot finely takes some work, and you could also grate it to save you some time if you like (although then it will look a little less pretty).
Ingredients
1 kg carrots
1 1/2 Tbsp coarse sea salt
Kimchi paste
1 Tbsp gochugaru, Korean chilli powder
50g leek, shredded
1 tsp minced garlic
1 tsp finely grated ginger
100g fresh daikon / mooli radish, coarsely grated or finely sliced (can be substituted for regular radish, but decrease the amount as it is stronger in flavour)
1/2 tsp fish sauce
1 Tbsp salt
Directions
Peel the carrots and slice them very finely (Julienne). Place them in a bowl and add the salt. Cover the carrots with water and leave them to stand overnight at room temperature
Taste the carrots to check the seasoning and wash in water until it is just too salty for your taste
A good kimchi contains enough salt, but to get it right it is important to taste it. If it is very salty then you need to rinse it more. Rinse it multiple times, tasting  each time until it is just too salty for your taste. If it tastes salty enough for your taste, then it is probably not salty enough, and you should add more salt to the mixture (2 Tbsp rather than 1 Tbsp) when you are making the Kimchi paste.
Mix together all of the ingredients for the Kimchi paste in a bowl
Add the carrots and mix thoroughly using your hands
Place the carrot Kimchi into a jar or bowl with a tight fitting lid. Press them into the jar to be tight fitting, but do not use any real force in doing so.
Put the kimchi into the fridge and let it stand for 10 days
It will keep for approximately 1 month in the fridge
Music to go with it…
Listen on Spotify: City and Colour – Bring Me Your Love