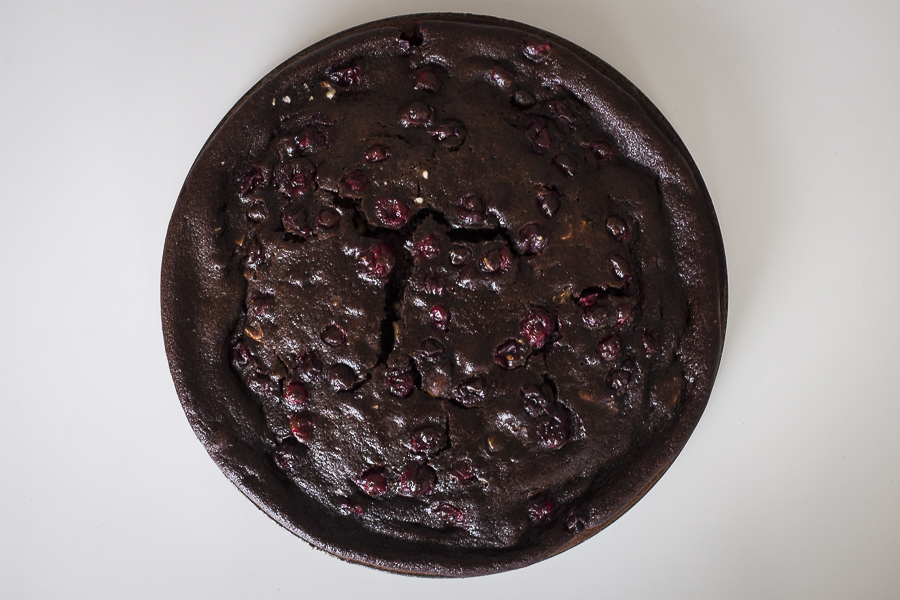 With my son's birthday fast approaching, and children in his class with nuts and gluten allergies, making a birthday cake this year took a little bit of experimentation. This chocolate cake received the children's seal of approval, with not a single piece left in the box that we sent into his classroom.
Ingredients
50g good quality cocoa powder (sifted)
125ml boiling water
seeds of one pod vanilla
70g sweet potato flour
60g rice flour
1/2 tsp bicarbonate of soda
1 pinch salt
150ml coconut oil (or regular olive oil, not extra virgin olive oil – it is too strong tasting)
100ml honey (or use maple syrup)
3 large eggs
handful of frozen cranberries (optional)
Directions
Heat the oven at 170 degrees Celsius (340 degrees Fahrenheit).
Sift the cocoa into a bowl. Add the boiling water and stir well to make a smooth paste. Put aside to cool down while you prepare the rest
Measure the sweet potato and rice flour into a separate bowl. Add the bicarbonate of soda and salt and set aside.
In the bowl of a food processor or mixer, add the coconut oil, honey and eggs.
Mix for about 3 minutes until well aerated.
Add the chocolate mixture to the mixture in the foodprocessor or mixer. Mix thoroughly.
Add the flour mixture to the foodprocessor or mixer. Mix thoroughly.
Prepare as springform cake tin of 20-25cm with a base lining of baking paper. Oil the sides of the tin with a little coconut oil.
Pour the mixture into the tin.
Sprinkle over the cranberries or other berries (optional)
Cook the cake for 40 minutes in the oven or until it is still moist in the centre, but cooked through.
Serve warm or cooled down.
Music to go with it…
Listen on Spotify: Breaks Co-op – Sounds Familiar