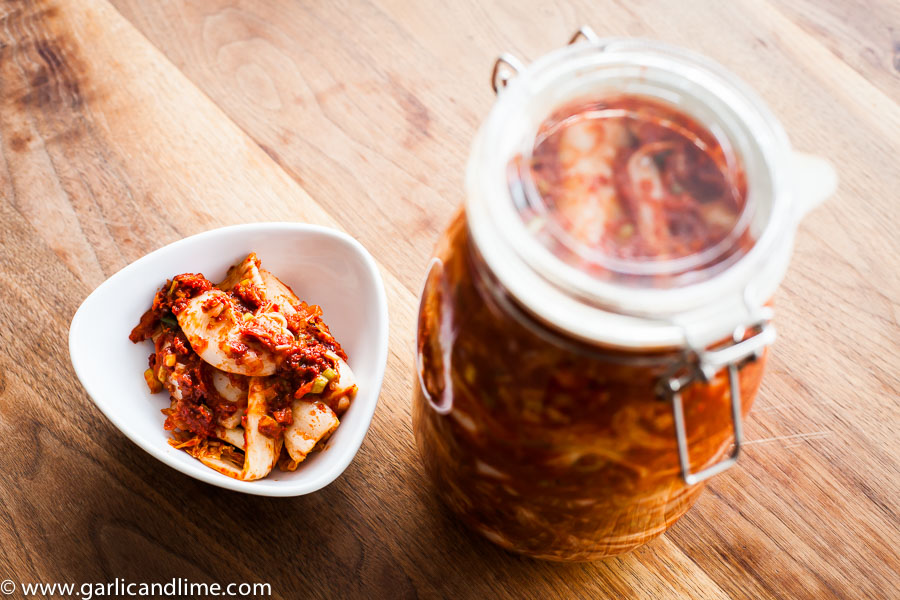 One of our son's best friends at school is Korean, and his mother was nice enough to give us some Korean gochugaru chilli powder. We had been talking to her about how much we loved Korean food, and that we were keen to try making our own Kimchi. After convincing her to swap a BBQ for a Korean dinner at her place, she decided it was our time to cook next and gifted us the chilli powder to make the much talked about Kimchi.
Kimchi is a fermented vegetable dish, much like sauerkraut, except spicy.  The national dish of Korea (and a national obsession), no Korean meal is complete without it. The fermentation process of making it also makes it great for your gut health and there are many studies on its health benefits.
There is no definitive recipe for Kimchi, rather you can make a lot of variations of the basic recipe. Adding carrot or cucumber are some suggestions to get you started. Enjoy!
Ingredients
2 kg Chinese leaf cabbage
200g sea salt
Kimchi paste
150g gochugaru, Korean Chilli Powder (do not substitute for regular chilli powder as this is more like a paprika powder, with a little chilli added. Regular chilli powder would be far too hot)
300g leek, finely chopped
2 Tbsp garlic, minced
2 Tbsp ginger, finely grated
200g fresh daikon / mooli radish, grate on wide grater, or finely shred (you could substitute for regular radish, but cut it is a little more intense in flavour, so decrease the amount and cut it up finely)
1 Tbsp fish sauce
1-2 Tbsp salt
Directions
Cut the Chinese cabbage in half lengthwise to expose all of the leaves. Place the halves cut side up in a bowl. Salt the cabbage layer by layer. You don't have to be too perfect at this.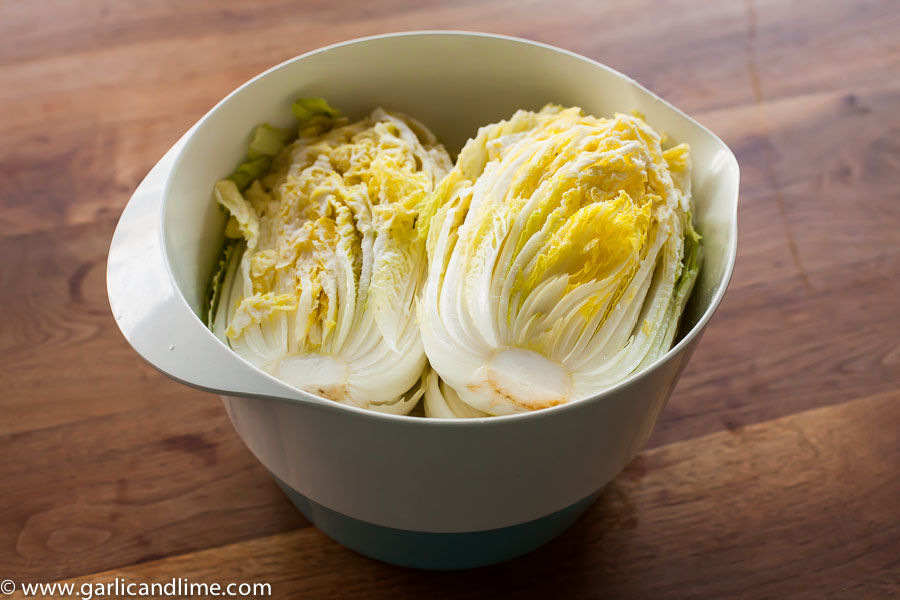 Place into a large bowl and cover with enough water to completely submerge it. Place a heave object on top to keep the cabbage submerged under water. I used a pestle, but you could use a bowl, plate, or jar as well.
Repeat for each of the cabbage halves until you have used up all of the salt and roughly salted all of the cabbage leaves
Cover with a tea-towel and let it stand for 24 hours at room temperature in the brine mixture.
Drain the water and taste a bit of the cabbage from the middle to check for how salty it has become.
A good kimchi contains enough salt, but to get it right it is important to taste it. If it is very salty then you need to rinse it more. Rinse it multiple times, tasting from a middle leaf each time until it is just too salty for your taste. If it tastes salty enough for your taste, then it is probably not salty enough, and you should add more salt to the mixture (2 Tbsp rather than 1 Tbsp) when you are making the kimchi paste.
Carefully squeeze the liquid out of the Chinese cabbage
Mix together all of the kimchi paste ingredients in a bowl.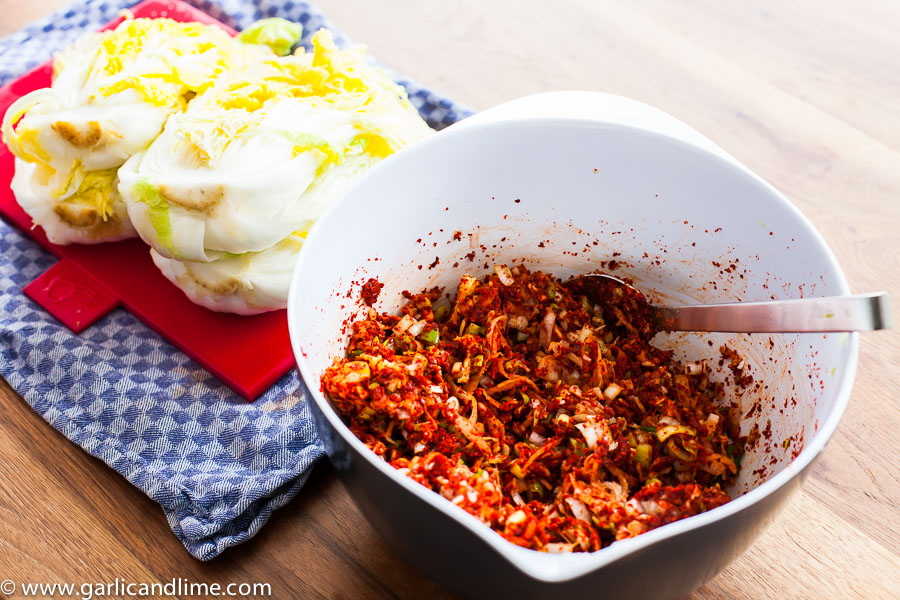 Either you can leave the cabbage halves still whole, or you can cut the ends off them in order to separate the leaves. I cut the ends off to make it easier to put them into the jar that I had available.
Mix the Chinese cabbage and kimchi paste thoroughly with your hands. It will wash off easily, and there isn't really a good substitute to just getting in there and getting dirty!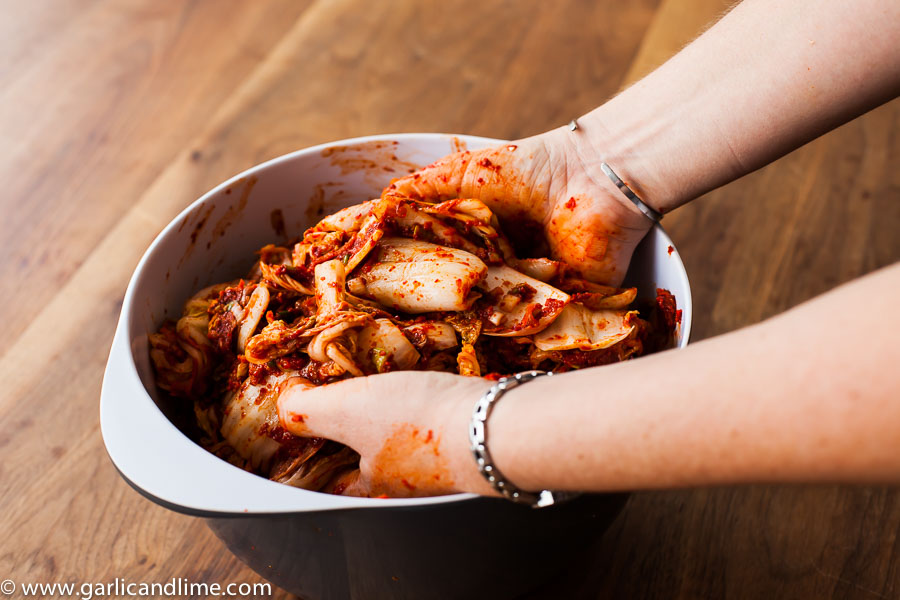 If you are leaving the cabbage halves whole, then make sure that you lift the leaves up and press the paste in between them.
Place the kimchi into a jar or bowl with a tight fitting lid. Press into the container so that it is tightly packed, but don't use too much force in doing so. You just want to press it into the container to completely fill it.
Leave the kimchi to stand on the bench for 24 hours.
Transfer to the fridge and leave it for 7-10 days before you start to eat it.
It will last for around 2 months in the fridge.
Music to go with it…
Listen on Spotify: The Very Best – Makes a King