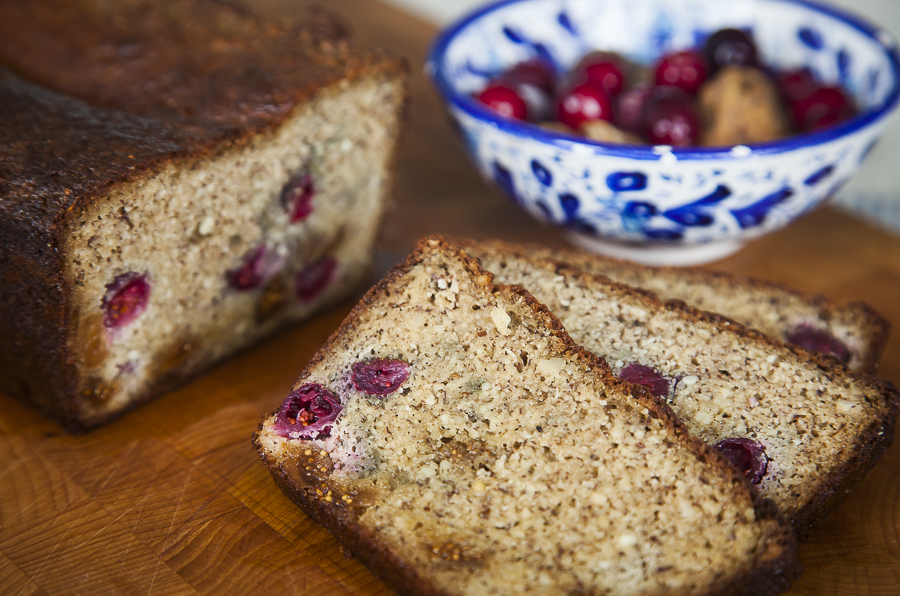 There is nothing quite like the smell of bread baking in the oven. This loaf uses ground almonds to be gluten free, and fruit and honey to sweeten it and avoid processed sugars.
Ingredients
2 cups ground almonds (or almond flour)
5 free range eggs
1/2 cup dried figs, chopped (could be substituted with dates)
1 cup frozen cranberries
1 ripe banana
2 Tbsp honey
1 Tbsp coconut oil or ghee
1 Tbsp apple cider vinegar
1 tsp baking soda
pinch of sea salt
Directions
Preheat the oven to 160°C (320 degrees Fahrenheit) and line a loaf tin with baking paper.
Add all of the ingredients except for the raisins in to a food processor. Process until smooth. Fold in the raisins.
Pour the batter in to the prepared loaf tin, and smooth out evenly.
Bake in the oven for 30-45 minutes or until a skewer comes out clean when inserted.
Leave to cool in the tin. Slice in to thick pieces, and enjoy with your favorite topping.
Makes 8-10 slices, keeps for 3-4 days in an airtight container.
Music to go with it…
Listen on Spotify: Regan Perry – Maui