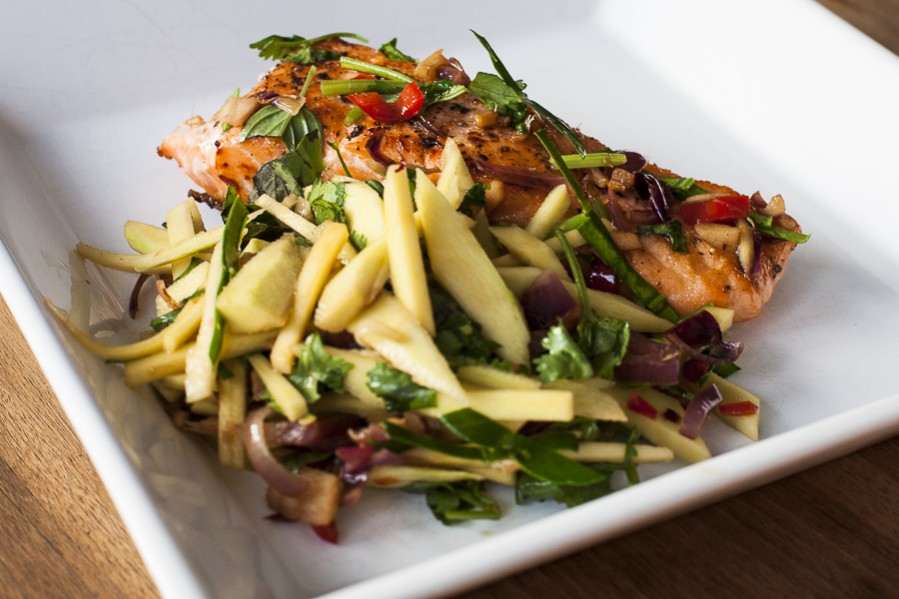 This is a very fresh, summary dish inspired by our recent trip to Thailand. While the mango salad takes a little bit of preparation work, there are no difficult techniques. Coconut Aminos and Kaffir lime leaves might not be familiar to you, so we have included some notes on these ingredients below.
Ingredients
2 Salmon fillets
Black pepper
5 red shallots, finely chopped
2 cm fresh galangal, finely chopped
1 red chilli, chopped (deseeded when using a hot chilli)
2 garlic cloves, chopped
1,5 tbsp coconut aminos
1/4 tsp maple syrup
Splash of water
Squeeze of lime juice
1 raw green mango, peeled and cut into thin strips of 3 cm long
Handful fresh coriander, roughly copped
Few Thai basil leaves
3 kaffir lime leaves, finely chopped and with the middle stem of the leaf removed
Directions
Season the fillets with sea salt and black pepper.
Fry the fish in a little coconut oil for a couple of minutes until done and set aside.
Fry the shallots, garlic, galangal and chilli in the same pan as the fish for about three minutes.
Add the coconut aminos, maple syrup, water and lime juice and give it a stir.
Take the pan of the heat and add the mango, coriander, basil and kaffir lime.
Mix well and serve with the fish.
About Kaffir Lime Leaves: The kaffir lime is a fruit native to tropical Asia including India, Nepal, Bangladesh, Thailand, Indonesia, Malaysia and the Philippines. It is used in Southeast Asian cuisine. If the recipe calls for kaffir lime leaves and you can't find any, skip the leaves. Don't substitute. The fragrance is so distinct that it is irreplaceable.
About Coconut Aminos: Coconut Aminos is a Gluten Free replacement for Soy Sauce. It often comes as a shock for people who are new to their Gluten Free lifestyles that Soy Sauce contains Gluten (wheat is often the first ingredient), but not all soy sauces are created equal. There are Gluten Free Soy Sauces available (including from popular Soy Sauce brand Kikkoman), but Coconut Aminos is also a useful replacement, and available from good Health Stores.
Music to go with it…
Listen on Spotify: John Legend – Love in the Future