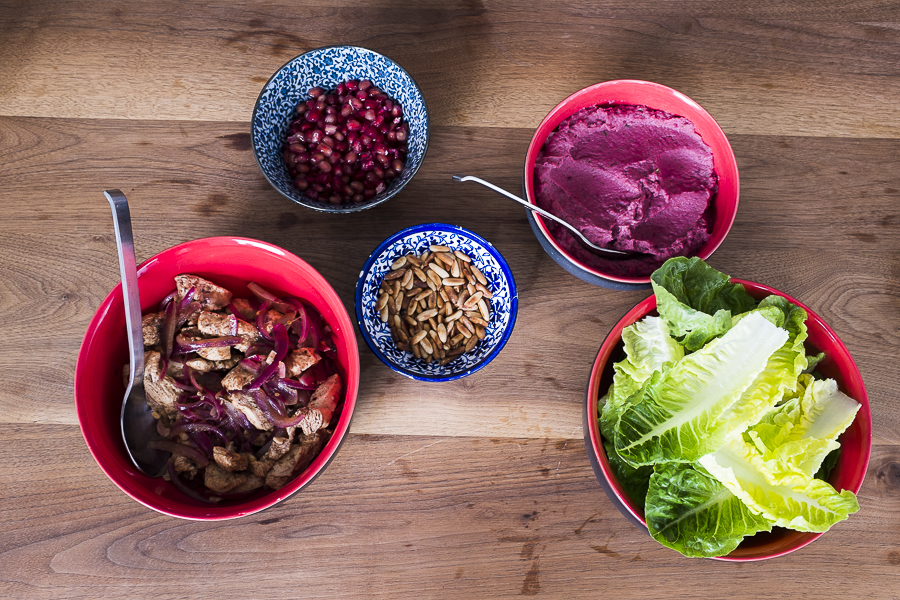 This is a meal designed to be shared, and constructed at the table. It is messy, it is fun, and it is delicious and nutritious. Enjoy!
Ingredients
1 large red onion, sliced
1 tsp za'atar
juice of 1 lemon
2 large chicken breasts, sliced into strips approximately 4cm by 1cm
2 cloves garlic, chopped
1 tsp sea salt
1 Tbsp coconut oil
freshly ground black pepper
1/4 tsp chilli flakes
Parsnip and Red Carrot Hummus
1 large parsnip, boiled until soft
5 purple carrots
2 spring onions
1 Tbsp tahini
1 tsp sea salt
1 tsp coriander powder
2 tsp cumin powder
juice of 1 lemon
2 cloves garlic
olive oil
To serve
large, firm lettuce leaves (such as romaine lettuce)
handful of pomegranate seeds
handful of pine nuts (dry toasted)
Directions
For the chicken – Fry onions until soft in a little coconut oil over a moderate temperature. Add za'atar and fry for 1 minute more. Add chicken strips and cook until done. Remove from the oven and put aside. Place into a bowl to serve.
For the hummus – put all of the ingredients into a blender including 2 Tbsp of olive oil. Blend until you have a smooth consistency. You may need to add some more olive oil to get to a thick, but spreadable consistency (about the same consistency as smooth peanut butter). Remove from the blender and place in a bowl to serve. Sprinkle with a little olive oil to serve if you like.
For the pine nuts – heat a clean pan to a moderate / high temperature. Add the pine nuts to the pan (without any oil). Stir continuously for 3-5 minutes until the pine nuts are a golden brown colour. Remove from the pan and add to a bowl.
This is designed as a meal that is assembled by everyone at the table.
Start with romaine or other strong leafed lettuce leaves. Top with hummus, followed by the chicken mixture, and sprinkle with the pine nuts and pomegranate seeds to complete.
Music to go with it…
Listen on Spotify: The Woolshed Sessions – The Woolshed Sessions