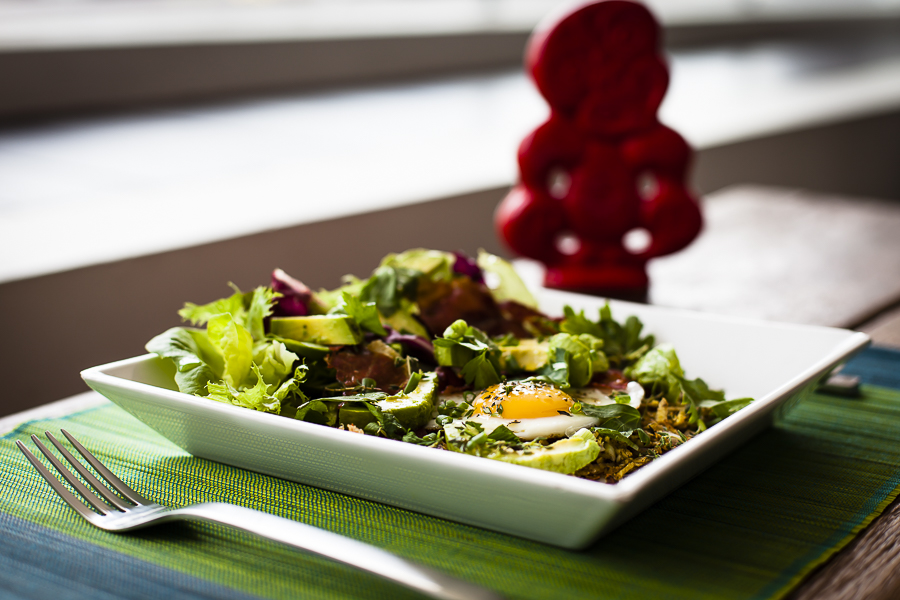 This sweet potato (kumara) rosti has become a firm favorite in our home as a light meal for either lunch or breakfast. It is substantial enough to be filling, but easy enough to make that it has become one of our "tried and true" fall back recipes when we don't really feel like deciding what to cook. Let's face it, we all have those moment sometimes.
Ingredients
2 large sweet potatoes peeled and grated
1 red onion, chopped
3 garlic cloves, chopped
1 tsp salt
1/2 tsp black pepper
1/2 tsp pimenton / smoked paprika
1/2 tsp dried oregano
1/2 tsp dried thyme
1/2 tsp dried rosemary
ghee to cook
4 eggs
slices of parma ham or bacon
fresh mint, chopped
3 spring onions, chopped
few fresh thyme sprigs
olive oil or avocado oil to garnish
1 fresh avocado, sliced, chopped in chunks
rocket leaves
A pan that can also be put into the oven to grill
Directions
Heat the grill to 220 degrees celsius (circo-roast on our oven – uses top and bottom element)
Place the grated sweet potato in a tea towel and wring strongly to remove the excess water.
Combine the sweet potato, onions, garlic, paprika, dried herbs, salt and pepper in a bowl and stir to combine. Add two of the eggs and stir to combine.
Cook the parma ham in the oven at 200C for 10 minutes until crispy.
Add a little ghee in a pan and add enough of the sweet potato mixture to the pan to cover the bottom. Press down the rosti to form a cake with the back of a spoon. Cook for 5-10 minutes until the edges start to appear golden.
Place the pan in the oven under the grill and cook for around 8 minutes until the top becomes crispy
In the meantime fry an egg
When the sweet potato is ready transfer to a plate. Place an egg on top, sprinkle with fresh herbs, spring onion, avocado, and the parma ham. Sprinkle with a little olive or avocado oil.
Serve with a sprinkle of extra salt and pepper and some rocket leaves.
About Sweet Potatoes:
The sweet potato is an edible tuberous root that is long and tapered, with a smooth skin whose color ranges between yellow, orange, red, brown, purple, and beige. It is only distantly related to the potato and does not belong to the nightshade family. Its flesh ranges from beige through white, red, pink, violet, yellow, orange, and purple. Sweet potato varieties with white or pale yellow flesh are less sweet and moist than those with red, pink or orange flesh.
The origin and domestication of sweet potato is thought to be in either Central America or South America. In Central America, sweet potatoes were domesticated at least 5,000 years ago. In South America, Peruvian sweet potato remnants dating as far back as 8000 BC have been found. In New Zealand the sweet potato is known by the Maori name of Kumara, while in parts of North America it is referred to as "yams" although Sweet potatoes are botanically quite distinct from yams.
Music to go with it…
Listen on Spotify: Marissa Nadler – July
SaveSave
SaveSave