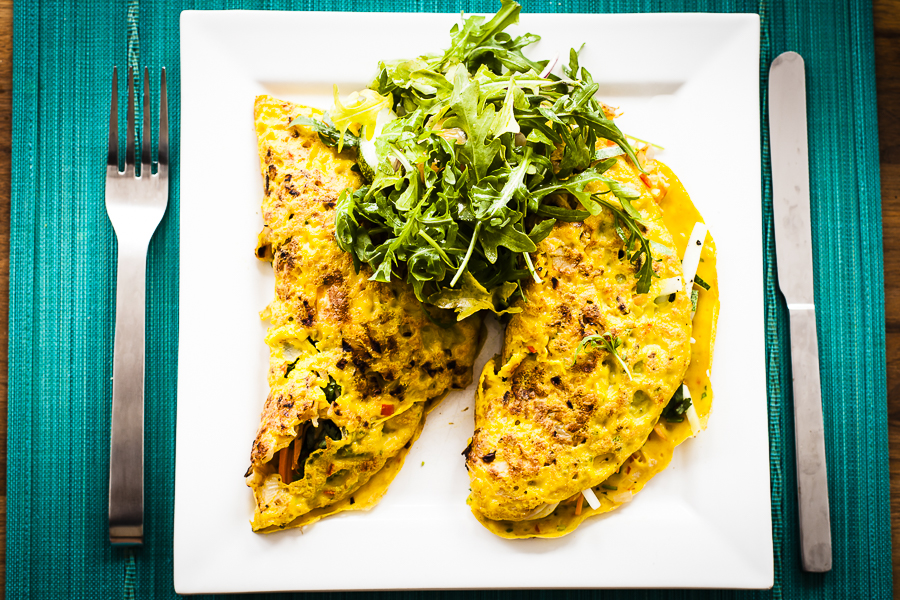 Vietnamese cooking is delicious, fresh and full of flavour. This recipe is great either for breakfast or for lunch.
Ingredients
100g rice flour
200ml coconut milk
1 tsp ground turmeric
200ml water
2 spring onions, finely chopped
1 red chilli, finely chopped
pinch of himalayan rock salt
3cm ginger, chopped
3 garlic cloves, finely chopped
1 onion or large shallot, finely chopped
12 large prawns, shelled and deveined
1 carrot, julienned (finely sliced into sticks)
1 cucumber, julienned (finely sliced into sticks)
large handful fresh coriander, finely chopped
salt and pepper
few drops hot sesame oil
2 eggs, beaten
Directions
Mix flour, coconut milk, turmeric, water, spring onions, chilli, ginger, garlic, and salt in a bowl.
Heat a little oil in a frying pan and fry the onion until golden brown.
Add 3 prawns and a few tbsps of egg and stir to scramble the eggs and cook the shrimp.
Pour a thin layer of batter into the pan and top with a handful of carrot. Cover and let cook for 2-3 minutes until cooked through.
Remove the lid and cook for 1.5 minutes more.
Top with pepper, salt, a handful of cucumber, a handful of coriander, and a few drops of hot sesame oil to garnish. When the crepe is crispy remove from the pan and fold in half.
Cook the remaining crepes according to the above instructions one by one.
Serve with a little salad leaves for breakfast or lunch.
Music to go with it…
Listen on Spotify: Future Islands – Singles