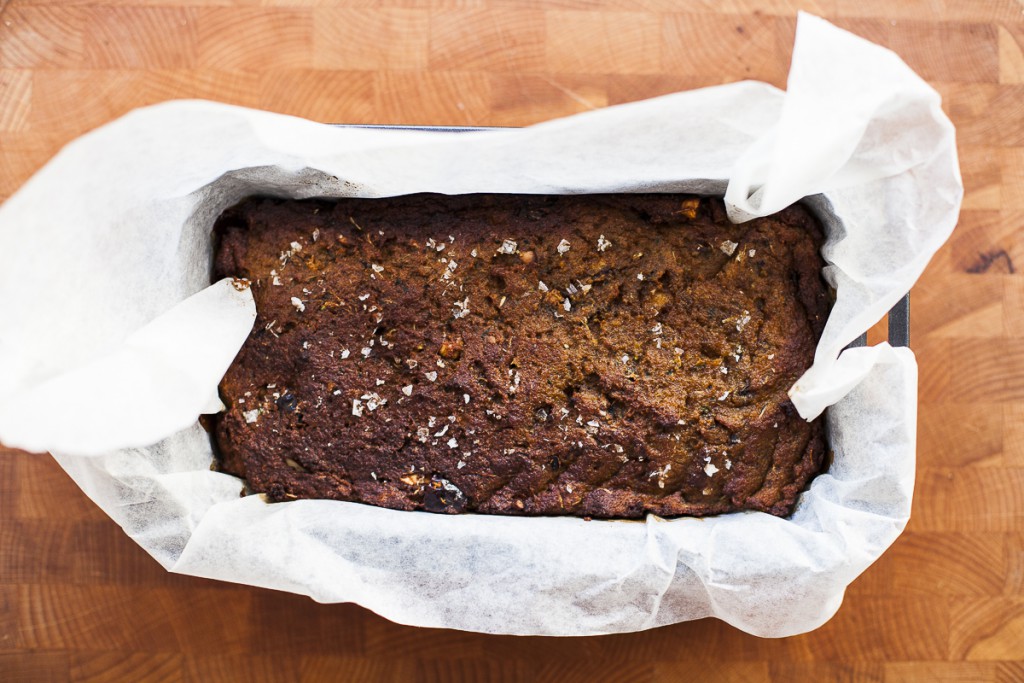 Bread is a bit of a challenge when you are gluten, sugar and dairy free. This loaf is naturally sweetened by dates and pumpkin, and given structure through the coconut flour and zucchini. It is delicious, healthy, and sneaks a few extra veggies into your lunch.
Ingredients
1/2 a large zucchini, or 1 whole small zucchini (courgette), finely grated, squeezed
350 g butternut squash (butternut pumpkin), cubed, cooked for 10 minutes and mashed
3 eggs
1 tsp baking soda
1 Tbsp ghee
1 heaped tsp cinnamon
1/4 tsp nutmeg
large pinch of sea salt
2cm fresh ginger, peeled and grated
handful chopped cashews, toasted with 1 tsp coconut oil and a pinch of sea salt
5 dates, chopped
1/2 tsp dried rosemary
sea salt for sprinkling on top
2/3 cup of coconut flour
Directions
Pre-heat the oven to 180 degrees celcius (350 degrees Fahrenheit)
Boil the butternut squash (butternut pumpkin) for 10 minutes in boiling water until it is cooked through. Drain and let it cool a little so that it will not cook the eggs when you add them to the squash mixture. Mash to a smooth consistency.
Add the eggs and ghee and mix well.
Grate the zucchini. Place the grated zucchini into a tea towel and squeeze it firmly to remove all of the liquid. You may need to use a fair bit of pressure.
In another bowl, add the zucchini with the baking soda, cinnamon, nutmeg, salt, ginger, rosemary, and dates. Mix well.
Add the zucchini mixture to the squash mixture and stir well to combine.
Add the coconut flour, and fold into the mixture. You should have a thick mixture with little moisture. Depending on how moist your zucchini was still, you might need to add a little more coconut flour. The coconut flour will absorb the moisture.
Toast the cashew nuts in a hot pan together with a pinch of salt and 1 tsp of coconut oil until they are golden in colour.
Add the toasted cashew nuts to the mix and stir through.
Line a bread loaf tin with baking paper. Transfer the mixture into the bread loaf tin.
Cook at 180 degrees celcius (350 degrees Fahrenheit) for about 45 minutes until golden brown and a fork inserted into it comes out clean.
Music to go with it…
Listen on Spotify: Future Islands – Singles