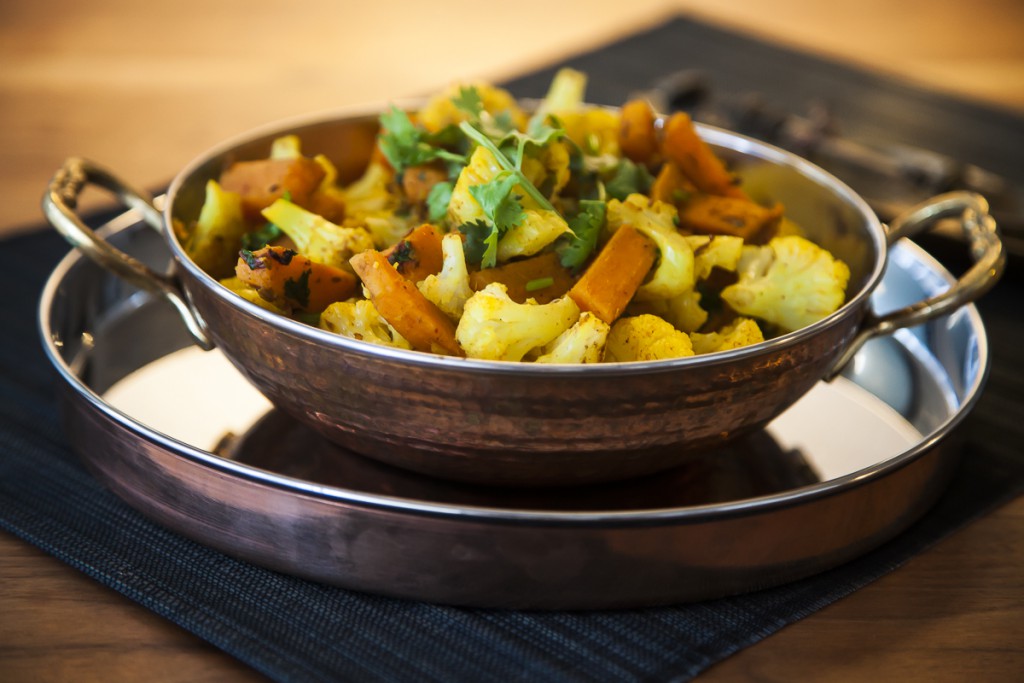 During our time living in India we became really big fans of Indian food. One of the greatest parts of traveling there was tasting all the different types of food around the country. In India this is normally made with potatoes, but we have substituted them for sweet potatoes in this dish for the extra nutrition.
Ingredients
400g cauliflower, cut into portions / florets
300g sweet potato, peeled and cu into 3cm chips
pinch of asafoetida
1/2 tsp cumin seeds
3cm fresh ginger, peeled and grated
1/2 large green chilli, finely chopped
1/4 tsp tumeric
1/4 tsp chilli powder
pinch of salt
1/2 tsp garam masala
1/4 tsp amchur (mango powder)
handful of fresh coriander, roughly chopped
120ml water
Directions
Heat 1 Tbsp of coconut oil in a large frying pan over a high heat. Add the asafoetida, cumin seeds, ginger, chilli and turmeric. Mix and fry for a few seconds.
Add cauliflower, sweet potato, water, and salt, cover and cook on a medium high heat until the water is evaporated. This will take about 10 minutes. Stir once in a while to avoid it catching on the bottom of the pan.
Check that the sweet potatoes are cooked through. If they are not you may need to cook them for a little while longer, and add a little more water to create the steam to cook them in.
Add the garam masala, coriander and mango powder. Mix and serve.
Can be served as a side dish with Chicken Cardamon Curry with Papaya or another curry dish.
Music to go with it…
Listen on Spotify: The War on Drugs – Lost in the Dream