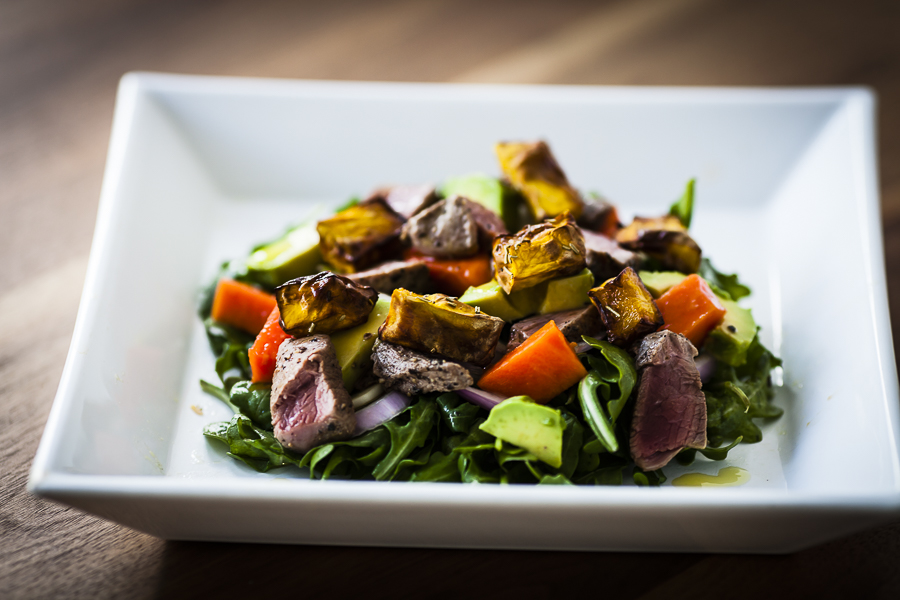 This is a delicious salad meal which tenderizes the lamb with papaya. You could also exchange the papaya for mango if it is difficult for you to obtain.
Ingredients
For the dressing
Rind of half a lemon
1 tbsp lemon juice
3 tbsp extra virgin olive oil
1/2 tbsp red wine vinegar
1/2 tsp dried oregano
Sea salt and pepper
For the salad
1 small red onion, finely sliced
2 garlic cloves, finely sliced
1 large bag of rocket or baby spinach leaves
250 gr pumpkin, peeled, de-seeded and cut into cubes
1/2 tsp dried rosemary
400 gr papaya, peeled, deseeded and cut into cubes
2 ripe avocados, cut into bite size pieces
500 gr good quality lamb in cubes
Sea salt and pepper
Directions
Start with the dressing. Put the lemon rind, lemon juice, olive oil, red wine vinegar, oregano in a little bowl.
Season with sea salt and freshly ground black pepper and stir. Set aside.
Roast the pumpkin in the oven (200 degrees Celsius) for 30 minutes or in an Air Fryer at 200 degrees C for 10-15 minutes until done.
Season the lamb with a generous amount of sea salt and black pepper.
Heat a little coconut oil in a large skillet and fry the meat for a couple of minutes until brown all over. Be careful not to overcook your lamb, especially the smaller pieces can turn into rubber rather quickly.
When the meat is done, put on a plate and leave to rest for at least 5 minutes.
After resting, slice the meat into slices.
Mix all salad ingredients in a large bowl, add dressing, put the meat on top and enjoy!
Music to go with it…
Listen on Spotify: The Map Room – The Map Room