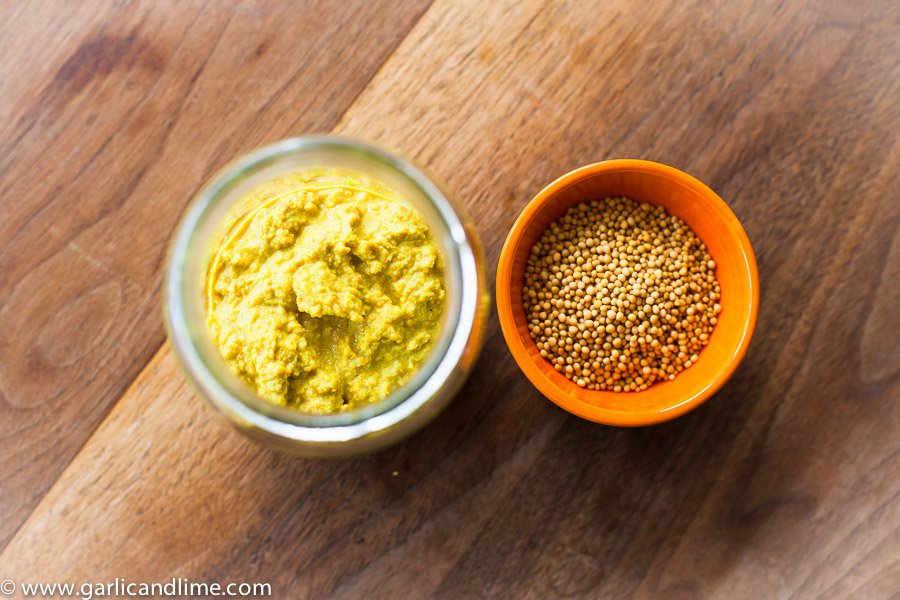 I wanted to make a sweet potato salad with a honey mustard dressing, but in looking at the pots of mustard I started finding a whole pile of ingredients that I didn't recognize. Thinking it must be possible to make myself, I started exploring making different types of mustard. This is a basic recipe and you can vary it with different types of mustard seeds, and by adding more or less honey to make it sweeter. A little warning, it is quite spicy immediately after you blend it, so beware of using too much too soon.
Ingredients
Directions
Add the mustard seeds, vinegar and water to a jar. Do not cover it, and let it stand on the bench top for 24-48 hours. (If you forget about it, then it is OK to leave it like this for up to a week.)
The mustard seeds should have absorbed most of the water and vinegar before you move to the next step (this might take more or less time depending on your mustard seeds)
Place the mustard seeds mixture, turmeric, salt, and honey into a blender and blend for about 2 minutes. You can blend a shorter or longer time depending on whether you prefer a smooth or more chunky mustard.
Place the mustard into a sealed jar, and put it in the fridge. Let it sit for a couple of days before you eat it, as the taste will mellow and all the flavours will meld together the longer it stands.
Note: that the inclusion of the turmeric is only to give it a yellow colour. You can leave it out if you like, and then the mustard will be a beige colour.
Note: You can add more honey if you prefer the mustard a little sweeter. Try it first with 2 Tbsp, and add more later after you have let it stand for a couple of days if you prefer.
Music to go with it…
Listen on Spotify: Lower Dens – Escape from Evil