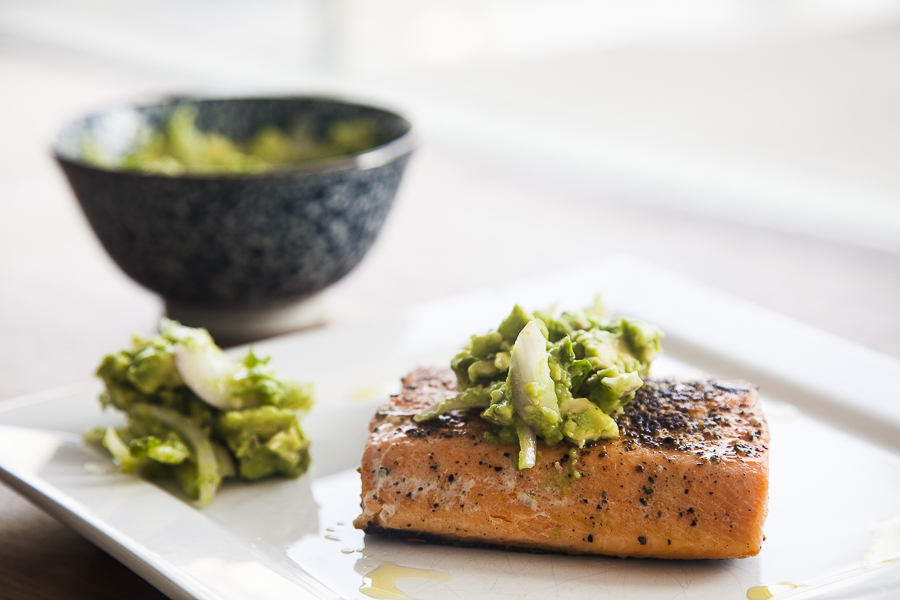 This recipe uses a slightly simpler version of a traditional guacamole. For this recipe we do not use a blender so it's not completely smooth but a little more chunky. Use the chilli if you like it spicy, otherwise omit.
Ingredients
For the fish
2 wild salmon fillets
Salt and pepper
Sumac powder
For the guacamole:
1 ripe avocado, chopped into cubes
1 garlic glove, finely chopped
1 small red onion, finely chopped
2 spring onions, finely chopped
Fresh coriander, chopped
Juice of 1 lime
1 tsp group cumin
Salt and pepper
Olive oil
1 red chilli (optional)
Directions
Start with the guacamole. Put all ingredients in a large bowl and mix and mash until you have a chunky consistency. Set aside.
Season the fish with salt and pepper and a little sumac.
Heat the oil in a frying pan and fry the salmon for a couple of minutes (skin side first) until it is half way cooked. Look at the side of the fish and you will see the line come up.
When the fish is half way, turn and fry for another minute or two. If you like your fish well done, just cook it a little longer.
Transfer to a plate, top with the guacamole and a splash of olive oil.
Music to go with it…
Listen on Spotify: Woods – With light and with love