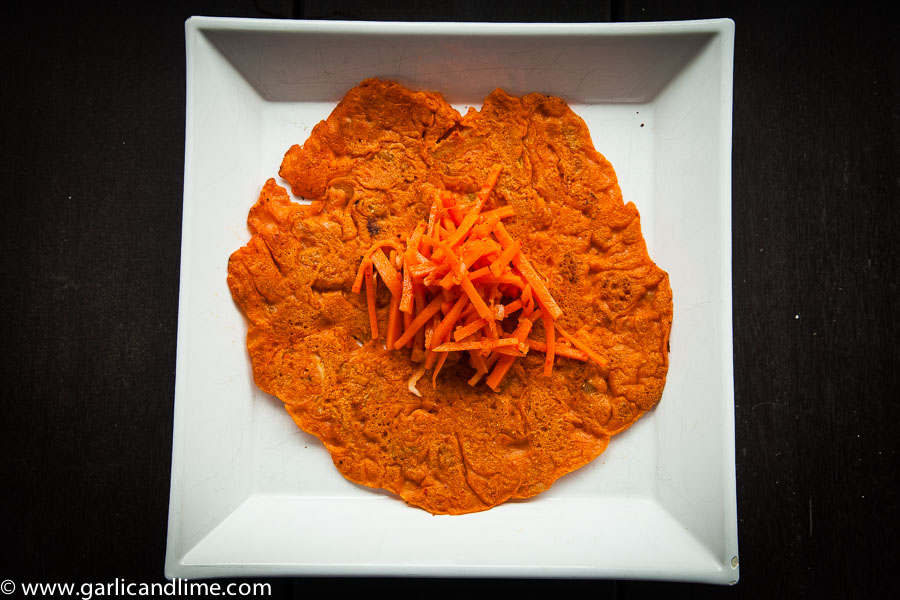 I made a big mix of Kimchi and am spending the week on recipes that can use it in cooking, instead of as an accompaniment. Kimchi pancakes (Kimchijeon in Korean) is a recipe that Korean friends of ours made us when we went to visit them, and this is a variation of that recipe in order to make it gluten free.
These are a savoury pancake, that should get a little bit crispy. In order to make them crispy the water that you add to the mixture needs to be cold, or you can add some ice to cool it down. Do make sure that you use oil in the pan, as this will also help the process of turning them crispy. 
We ate them on their own and with Carrot Kimchi, and they make quite a hearty meal. This recipe makes 8-10 pancakes, which is a little too much for 2 people for lunch. 
We have also made them with some chicken added, and you could also add some finely chopped leeks or spring onions as a variation.
Ingredients
2 cups (500ml) rice flour
2 Tbsp coconut flour
1 egg
550ml cold water
2 cups (500ml) kimchi
5 ice cubes
coconut oil or other high heat oil
Directions
Chop the kimchi up finely
Place the rice flour, coconut flour, egg, cold water and kimchi into a bowl. Stir to combine. It should be a fairly watery batter
Heat the oil in a frying pan on a moderate heat
Place the ice cubes into the batter. This will help to cool down the mixture and make sure that your pancakes get crispy. The alternative is to use chilled water out of the fridge when making the mixture.
Using a soup ladle, scoop up a good scoop of the mixture and pour it into the pan. Use the back of the soup ladle to spread the mixture around, making sure that the kimchi is evenly spread across the pan and not in a heap in the middle
Wait until the mixture has cooked through before flipping the pancake over onto the other side. Resist the urge to turn it too soon as it will not go crispy around the edges if you do. Takes 1-2 minutes
Flip the pancake and ensure that it is cooked through – only about 30 seconds to 1 minute on this side.
Serve while stil hot
Makes 8-10 kimchi pancakes
Music to go with it…
Listen on Spotify: The Vaccines – English Graffiti