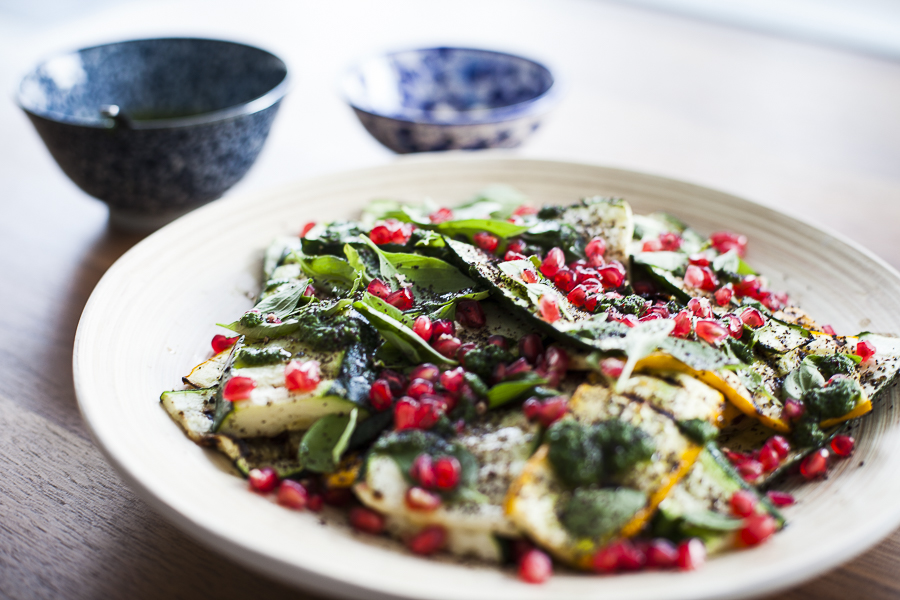 Middle Eastern food is a real treasure trove of gluten and dairy free recipes, with delicious flavours. We love exploring Lebanese and Morrocon cuisines in particular, and this is inspired by the tastes of the region.
Ingredients
2 large courgettes, sliced
Za'atar powder
Salt and pepper
Fresh basil leaves
Pomegranate seeds
Toasted pine nuts
Coconut oil for frying
Olive oil
Sumac powder (for garnishing)
For the pesto
Large handful of mint
Large handful of basil
3 garlic cloves
Handful of toasted pine nuts
Juice of half a lemon
Salt and pepper
Olive oil
Directions
Combine all of the pesto ingredients in a blender and blend well until a smooth but thick consistency.
Brush the courgettes with a little coconut oil and sprinkle with a generous amount of za'atar and black pepper. Grill on a hot grill pan until grill marks show up on both sides.
When done arrange on a big plate, top with basil leaves and pomegranate seeds.
Top with some of the pesto, and sprinkle with a little olive oil and a little sumac powder to garnish.
About Za'atar Za'atar is the generic name for the herbs oregano, thyme, and marjoram. As a spice mix it is usually based on these dried herbs, combined with sesame seeds, salt, and sometimes sumac and other spices. Used widely in Arab cuisine, both the herb and spice mixture are popular throughout the Middle East.
Music to go with it…
Listen on Spotify: The Belt – In the Valley Below