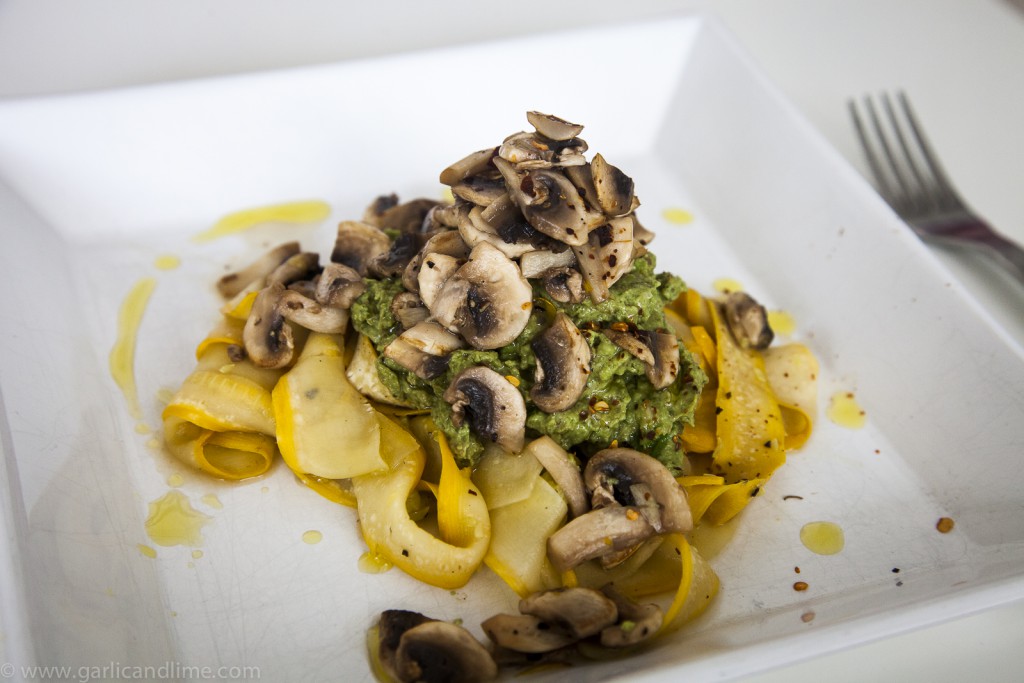 This is a light, healthy, lunch that gives you a lot of vegetables in one meal. Is made more substantial through the avocado sauce, and given a little bite through the chilli, which you can leave off if you are not a chilli fan. It is enough for 2 people, but for bigger eaters you might like to add an additional zucchini.
Ingredients
2 zucchinis (1 per person)
50g soft nuts (Brazil, almonds, walnuts, cashew or a mix)
2 avocados
juice of half a lemon
handful mint leaves
50ml olive oil
freshly ground pepper
150g mushrooms
chilli flakes
coconut oil to cook
Directions
Using a flat peeler or grater shave slices of the zucchini (courgette) to make the pasta
Slice the mushrooms into 1-2mm slices
Take a blender jar or food processor bowl. Add the nuts and blend for 15-20 seconds to chop the nuts roughly.
Cut open the avocados and remove the pits. Scoop out the flesh and add it to the blender. Add the lemon juice, mint leaves, olive oil, a pinch of sea salt and a few grinds of freshly ground black pepper.
Blend the mix to a smooth mix. There might still be some nut chunks, and that is ok. It adds texture.
Pan fry the mushrooms in a pan with a little coconut oil, sea salt and freshly ground pepper for 2-3 minutes until softened. Remove from the pan.
in the same pa, heat a little more coconut oil, add the zucchini pasta and quickly pan fry for about 2 minutes. You are only trying to soften and warm them through, not to cook them until golden.
Pile the zucchini pasta onto 2 plates. Top with half the avocado mix on each plate. Top with the mushroom mix. Garnish with some chili flakes, freshly ground black pepper and some olive oil.
Music to go with it…
Listen on Spotify: Gin Wigmore – Gravel & Wine