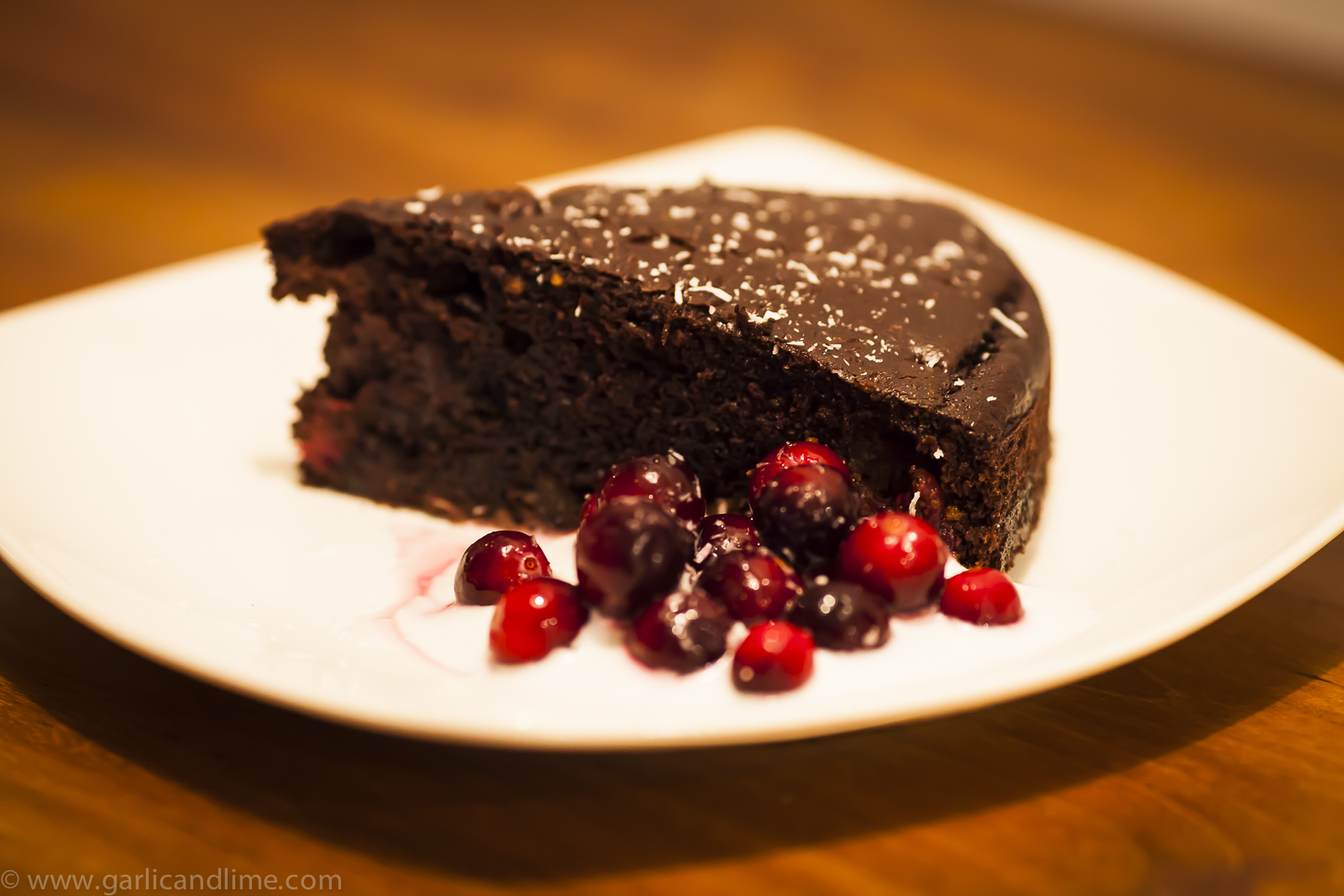 Somehow I seem to have become obsessed with making the perfect gluten free, dairy free, sugar free chocolate cake. One that actually tastes good! And with this recipe I think I have gotten pretty close. If I didn't tell you all of the above, you would have no clue! So I tried it on a colleague this week, and he really liked it, and couldn't believe it was gluten free. Mission accomplished – now go make it yourself, what are you waiting for?
Ingredients
50g dark chocolate (check the ingredients list to avoid high sugar contents)
50g good quality cocoa powder (sifted)
100ml freshly brewed espresso (two double espressos) (long black)
100g ground almonds or almond flour
50g rice or tapioca flour
1 tsp bicarbonate of soda
1 pinch salt
150ml olive oil or coconut oil (not extra virgin olive oil, it tastes too strong)
100ml honey or maple syrup
3 large eggs
1 banana, mashed
100g dates or figs, chopped (you can use cheap dates here, no need for the gourmet ones from the fridge)
100g frozen cranberries, blackcurrants, raspberries or blackberries
50g chopped cashews nuts (optional – if you want to turn it into brownies in a rectangular tin)
Directions
Heat the oven at 180 degrees Celsius (350 degrees Fahrenheit).
Break the dark chocolate into a metal bowl. Place over a bowl of hot boiled water to melt.
Sift the cocoa into a bowl. Add the freshly brewed espresso and melted dark chocolate. Stir well to make a smooth paste. You may need to add 2-4Tbsp of hot boiled water to get a smoothe paste. This depends on your cocoa and the exact measurement of the coffee. Put aside to cool down while you prepare the rest
If you are using almonds, then grind them in a blender to make a fine powder (I use a grinding attachment, you may have a small bowl for your foodprocessor that could do the same job instead). Alternatively, measure the almond flour into a separate bowl. Add the rice flour. Add the bicarbonate of soda and salt and set aside.
In the bowl of a food processor or mixer, add the oil, honey and eggs. Mix for about 2 minutes until well aerated.
Add the chocolate mixture to the mixture in the foodprocessor or mixer. Mix thoroughly.
Add the mashed bananas and vanilla to the foodprocessor or mixer. Mix quickly.
Add the flour mixture to the foodprocessor or mixer. Mix thoroughly.
Prepare a round cake tin of 25cm in diameter, or a rectangular slice tin of 20cm in length with a base lining of baking paper. Oil the sides of the tin with a little coconut or olive oil.
Pour the mixture into the tin.
Scatter the dates/figs and frozen berries over the mixture to make sure they are spread evenly through the cake. Sprinkle over the cashew nuts if you are adding them. Pat them into the mixture using the back of a wooden spoon until they are covered by the mixture.
Cook the brownies for 30 minutes in the oven or until it is cooked through. Prick with a skewer to check if it is cooked through. The skewer should be clean when you pull it back out.
Serve warm or cooled down.
Music to go with it…
Listen on Spotify: Balthazar – Thin Walls