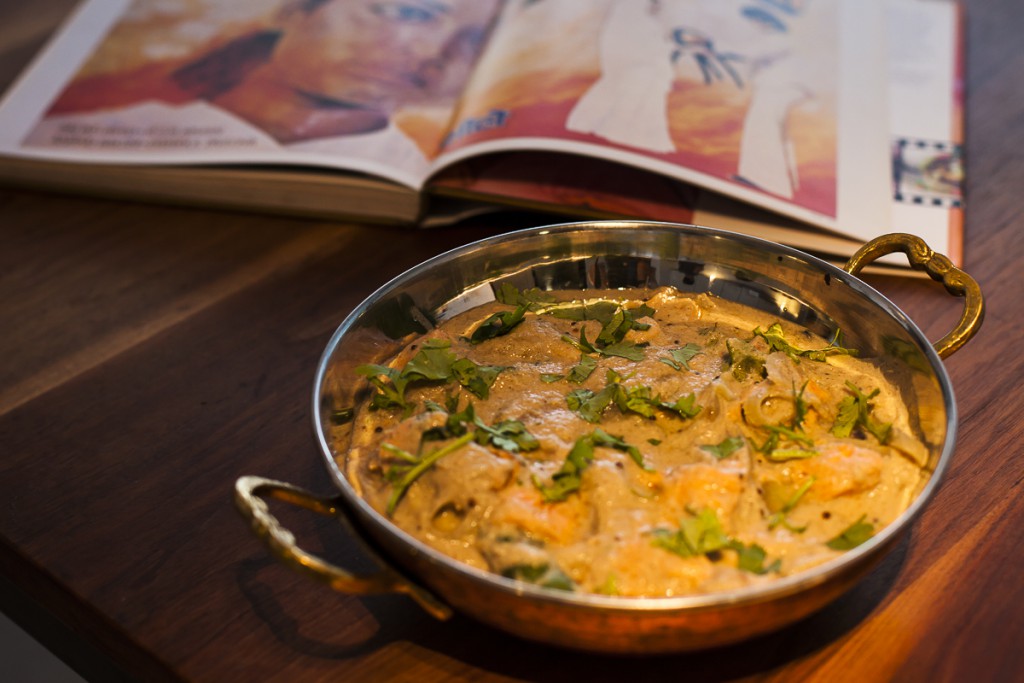 We lived in India for two years and love Indian food. This curry is inspired by the food of Southern India, and is full of flavour, but not spicy. It uses chili only to create flavour rather than heat, and you remove the chilies after the dish is cooked. It is mild enough for children to eat, but extra chilli could be added if you prefer to add some spice.

Ingredients
Spice paste
1/2 onion, sliced
3 cm ginger, peeled and roughly chopped
3 garlic cloves, peeled
1 tsp ground coriander
1/2 tsp ground cumin
100 ml coconut milk
Curry
1 tsp mustard seeds
6 green cardamon pods
4 cloves
1 cinnamon stick
1/2 large onion, sliced
3 whole green chilies, pricked all over, whole
120 ml coconut milk
150 ml water
250 gr salmon fillets, cut into pieces (can also use salmon trimmings)
15-20 curry leaves
salt and pepper
1 tsp garam masala
1/2 tsp amchar (mango powder)
2 tsp lemon juice
fresh coriander to garnish
Directions
Place all of the spice mix ingredients into a blender. Blend well to form a spice paste.
Heat 1 Tbsp of coconut oil in a moderate heat pan, add the mustard seeds, cardamon pods, cloves and cinnamon stick and fry until fragrant.
Add the onion, and fry gently until soft.
Add the spice mix, salt and chillies to the pan and stir well. Cover and cook for 10-12 minutes, stirring occasionally.
Add the coconut milk, water, salmon fillets, curry leaves, pepper, garam masala, and mango powder. Stir to combine and then let it simmer for around 5 minutes until the fish is cooked through.
Stir in the lemon juice and garnish with some fresh coriander.
Serve with rice or cauliflower rice.
Music to go with it…
Listen on Spotify: Anoushka Shankar – Traces of You