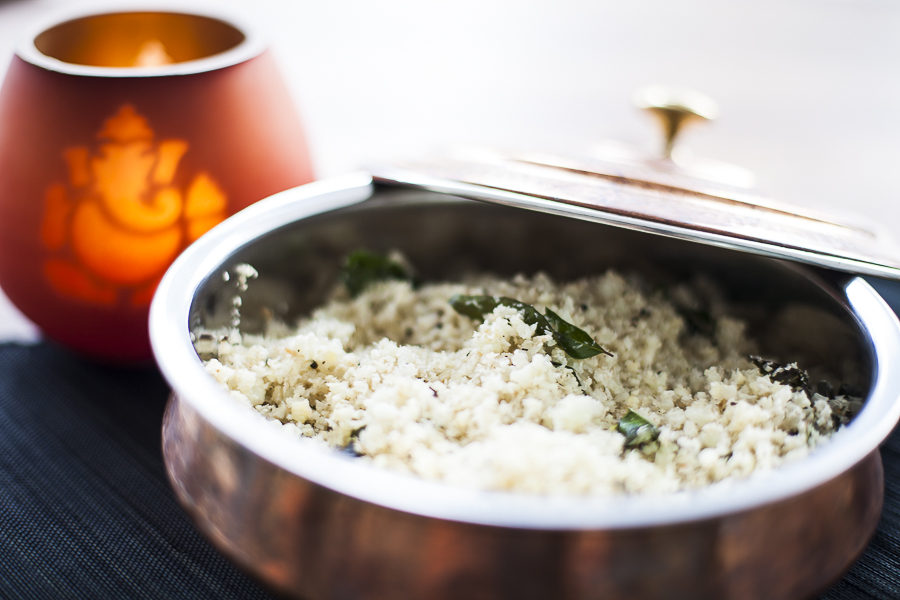 We lived in India for 2 years and fell in love with the food. Indian cooking has been a regular feature of our table, and counts amoung the favorite foods of our son. This isn't a traditional Indian dish, but is inspired by the spices of South India to create a rice substitute dish that combines beautifully with South Indian curries such as South Indian Prawn Mango Curry, or Coconut Spinach Curry with Meatballs.
Ingredients
500g cauliflower
25 curry leaves
1 tsp mustard seeds
3 cloves
1 tsp cumin seeds
1/2 cup desiccated coconut
1 tsp tumeric
salt and pepper
coconut oil or ghee for frying
Directions
Blend the cauliflower in a blender or food process until it has a rice like consistency.
Heat the oil in a large frying pan and add the curry leaves, mustard seeds, cardamon pods and dried chillies. Fry off the spices until the spices are fragrant and the mustard seeds begin to splutter.
Add the dried coconut and fry for another couple of minutes, stirring frequently.
Add the cauliflower to the pan and fry for about 10 minutes until the cauliflower is cooked through, stirring constantly to avoid it sticking.
Serve with any Indian curry such as South Indian prawn mango curry, or Coconut spinach curry with meatballs.
About cardamon:
Cardamon (also known as cardamom) is a spice native to India, Pakistan, Nepal, and Bhutan. They are recognised by their small seed pods, triangular in cross-section, with a thin outer shell and filled with small black seeds. Cardamom has a strong, unique taste, with an intensely aromatic fragrance. Black cardamom has a distinctly more smokey, though not bitter, aroma. Cardamon is used in both sweet and savoury dishes, and can also be added to tea as is commonly done in India when making Masala Chai (tea).
Curry leaves:
The curry tree is a tropical to sub-tropical tree, which is native to India and Sri Lanka. Its leaves are used in many dishes in India and neighbouring countries. Often used in curries, the leaves are generally called by the name 'curry leaves,' although they are also literally 'sweet neem leaves' in most Indian languages. Small and green, they are best bought fresh rather than dried, and do not last particularly long. You can find them in specialist Indian or Asian stores in many cities around the world.
Music to go with it…
Listen on Spotify: Anirudh Ravichander – Best of Anirudh