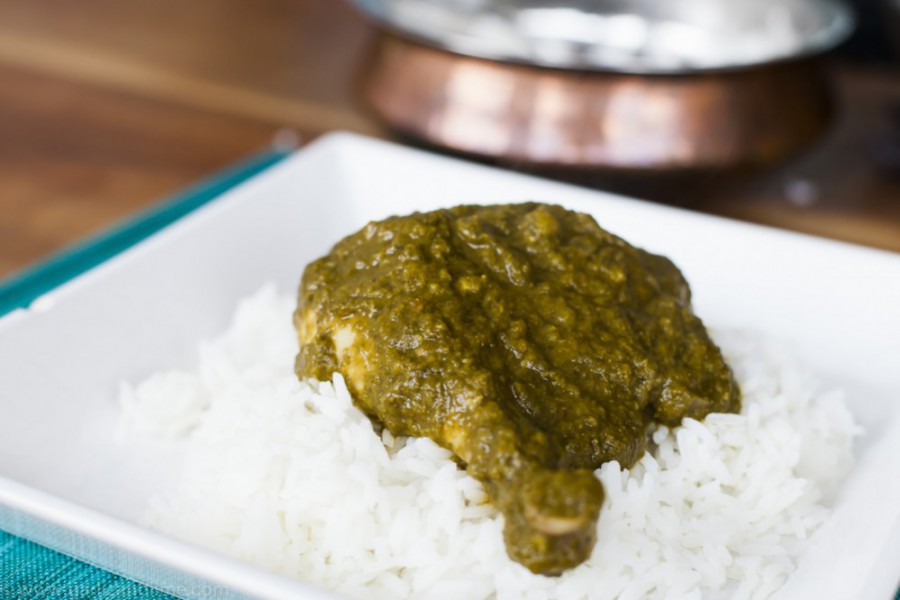 Having lived in India, our son's absolute favorite dish is Palak Paneer – a spinach curry with Indian Paneer cheese. He demands it at least once a week! It is a great vegetarian curry and you can find Paneer in some specialty Indian stores, but it is not always easy to find. This is a variation on the same recipe, using a leg of chicken, but pieces of chicken breasts are also OK. If you are vegan you could substitute the chicken or Paneer for large chunks of white button mushrooms.
Ingredients
4 chicken legs or breasts
1kg spinach
3 cm fresh ginger, sliced
1 tsp fenugreek seeds
1 tsp mustard seeds
3 bay leaves
1 onion, chopped
1 large garlic clove, crushed
1 tbsp coriander powder
1 tbsp cumin powder
1/2 tsp turmeric
1/2 tsp chili powder
1/2 tsp paprika powder (to add sweetness)
salt
pepper
2 tomatoes, blended
1 tsp Garam Masala
4 tbsp coconut yoghurt (optional)
Directions
Wash the spinach and get rid of the thickest stalks.
Cook the spinach with the ginger and some salt until wilted.
Let it cool off a little, then transfer to a blender and blend until smooth.
Heat two tablespoons of coconut or olive oil in a large frying pan. Add the fenugreek seeds and bay leaves.Fry until the spices become fragrant.
Add the onion and fry until soft.
Add the garlic, ground spices, salt and pepper and fry for a minute more. Stir well so the spices won't burn.
Add the blended tomatoes and cook softly until most of the liquid has evaporated.
Add the spinach mixture to the tomatoes and cook on a low heat for a few minutes.
When using the coconut yoghurt, stir it it in a tablespoon at the time. When the yoghurt has been absorbed by the sauce, add another spoon.
Add the chicken, bring to the boil, cover and cook for 20 minutes.
Add a little water during the cooking process if the sauce starts to dry out
Take the lid off and cook for another 5 minutes or until the chicken is done.
Sprinkle with the Garam Masala and serve with a little extra coconut yoghurt, steamed rice or cauliflower rice.
Music to go with it…
Listen on Spotify: Blur – Lonesome street
SaveSave