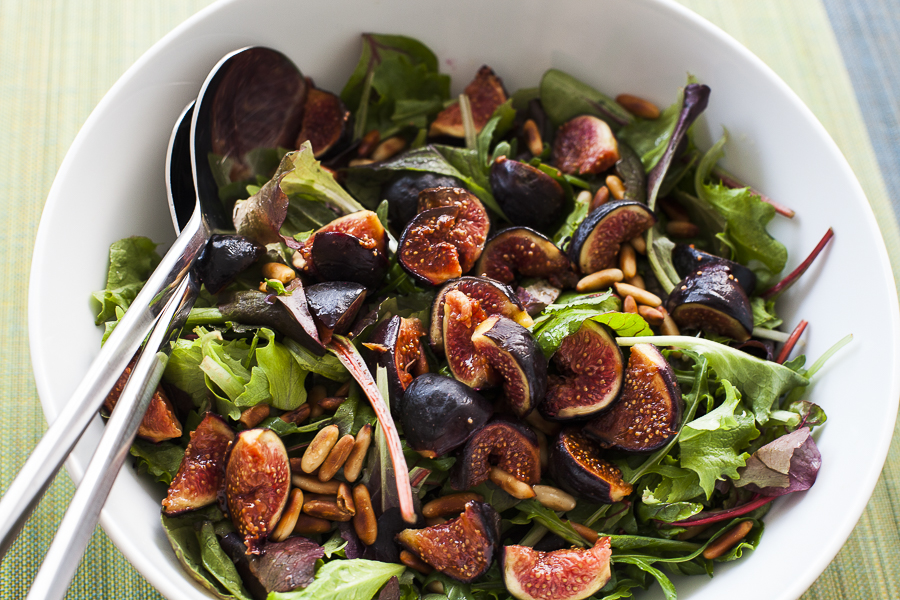 A super easy and quick lunch or light dinner this recipe brings out the flavours of the mediterranean with moorish figs and crisp toasted pine nuts. The addition of salmon fillets is an optional way to complete it for a full meal.
Ingredients
1 bag of salad leaves
Olive oil
Balsamic vinegar
Black pepper
Handful of toasted pine nuts
5 ripe figs, halved
2 Salmon fillets
Directions
Wash the salad and place in a bowl.
Add a splash of olive oil and a little balsamic vinegar and mix with the salad.
Add the toasted pine nuts and a little sea salt.
Cut the figs in half and dip the flat side in a little bowl of balsamic vinegar.
Heat a little coconut oil in a frying pan and fry the figs for a couple of minutes flat side down.
When the figs start to caramelise, take them out of the pan, cut the halves in 3 parts and add them to the salad.
Season the salmon with sea salt and black pepper and fry skin side down first for a couple of minutes. When the fillets are halfway cooked, turn them over and cook the other side a little shorter than the skin side.
Serve the salmon with the salad.
About Figs
Figs are the fruit of the ficus tree, which is part of the mulberry family (Moraceae). Figs have a unique, sweet taste and a soft, chewy texture. They are filled with slightly crunchy, edible seeds. Their natural sweetness meant that, before the days of refined sugars, they were often used as a sweetener.
Figs are native to the Middle East and Mediterranean and are one of the world's oldest trees. The fig tree can be traced back to the earliest historical documents and features prominently in the Bible.
Music to go with it…
Listen on Spotify: St South – Slacks