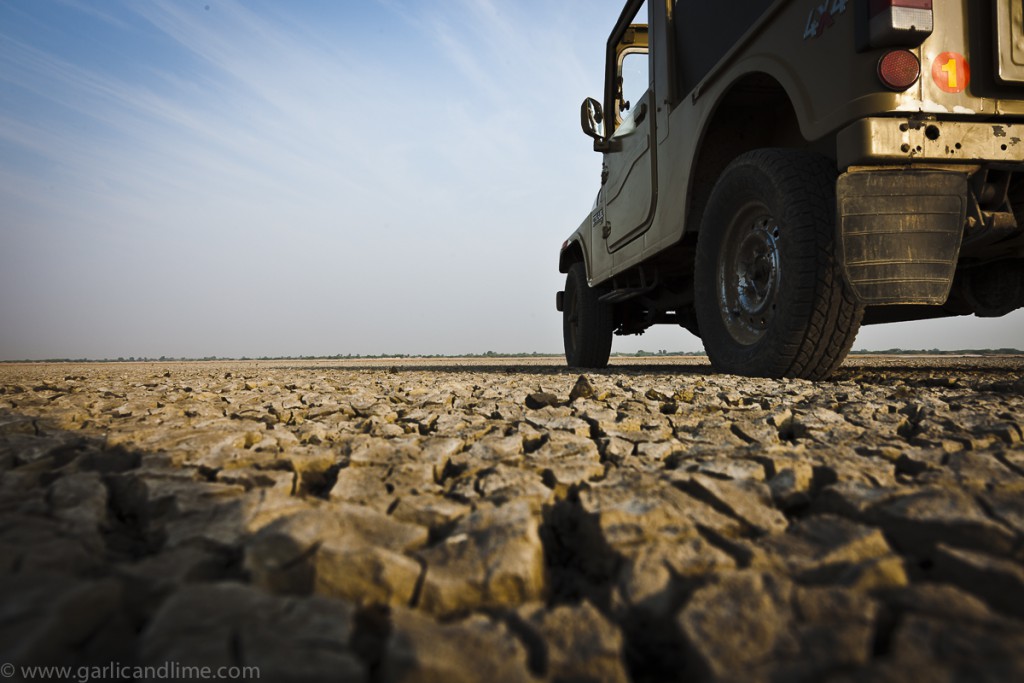 Rajastan, the Golden Triangle, and the Taj Mahal are all well known tourist attractions in India. Even Kerala is attracting a following to its backwaters. But India has so much more to offer, that is just a little off the beaten track and attracts far less tourists.
Breathe in a bit of Gujarat
Gujarat is a state best known in India for its industrious people. The home of top Industrialist Ratan Tata (Tata enterprises) and Mukesh Ambani (Reliance Industries), Gujarat has commerce in its blood. It is also the home state of India's Prime Minister – Narendra Modi. To change the perception that the state is only worthy of traveling there for work, a certain (very big) Bollywood star got paid an obscene amount of money to say the now famous and often repeated words "Breathe in a bit of Gujarat".
But Gujarat does have more to offer than its industrialists and their money making ability. It is a place full of history, was the home of Gandhi (you can visit his ashram in Ahmedabad) and is worth considering adding onto a longer trip that includes neighboring Rajastan.
The wonders of Gujarat
Bordering onto Pakistan in the north, Rajastan and Madhya Pradesh in the East, Maharashtra (Mumbai) in the South, and the Arabian sea in the West, Gujarat has a variety of landscape, historical and architectural wonders to visit. I am going to focus on the area from Ahmedabad North, known as the Little Rann of Kutch and shown on Google Maps as the "Wild Ass Sanctuary".
Salt Lakes and Temples
Much less famous than it's big brother (the Rann of Kutch) my colleagues and even a friendly Gujarati who offered me advice for the visit, assumed we were off to the big brother, despite my protests to the contrary that we were going to Little Rann.
Little Rann lies about 100km from Ahmedabad, through new housing developments, crop fields, and cows. We passed goods trains, trucks and camels as we wound our way through the countryside towards the desert.
Our accommodation was a bit of a surprise. Nestled in the fields down a small road, the dusty entrance wasn't promising, but a few steps further mud bungalows curled around green lawns. A veritable oasis in the middle of nowhere. While they unfortunately didn't feed us Gujarati food for dinner, the rooms and lawns at Rann Riders were certainly inviting.
Visiting the salt lakes
From Rann Riders we climbed into jeeps to drive from Dasada to the salt lake and Wild Ass sanctuary of Little Rann.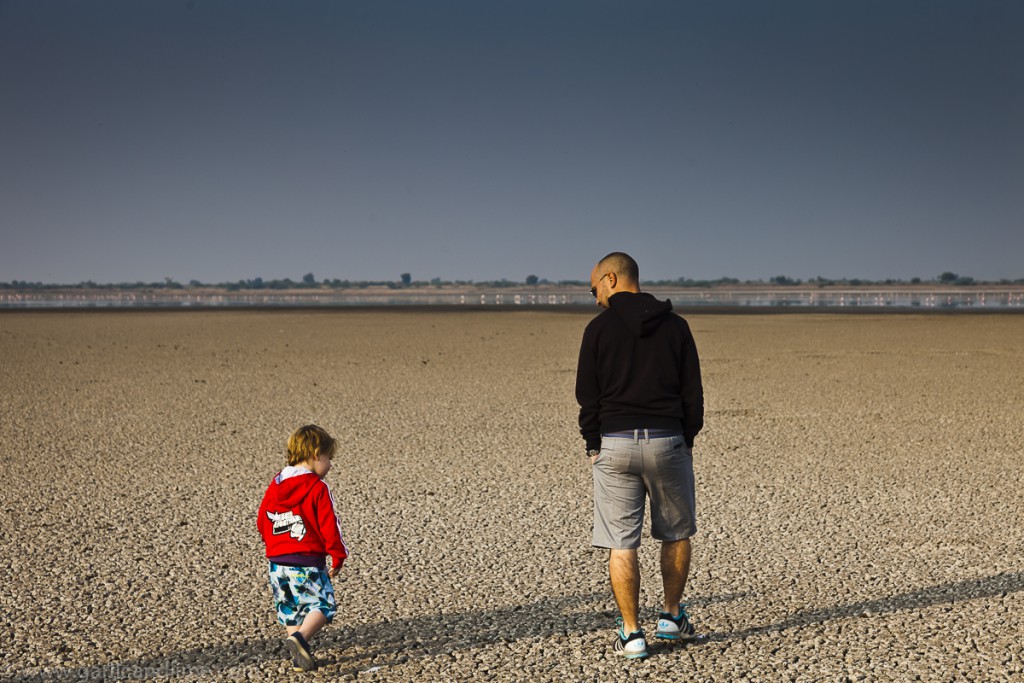 The driver stopped to point out migratory Cranes from Northern India and black winged ducks as we drove towards the flamingos on the drying up salt lake. Hundreds of them stood in the water, but as we tried to get a closer look the dried up mud gave way to slush and our feet got stuck. With a mud bath on our feet we headed off further in the jeep in search of the Wild Asses.

These beautiful white with black accented animals wandered in packs through the brush and sand looking for food. Wild antelope sheltered under a lone tree as the Asses ambled past.

Further along we came to the salt lakes where local men and women still till the salt by hand. Pulling rakes through the shallow water they spread out the salt to allow the sun to do the evaporation job, and collect up the salt into large sacks using minimal implements. Salt is one of the basic requirements for life, and its taxation and monopolization by the British led to the salt marches of Gandhi, one of the major resistances to British rule, which ultimately led to independence, starting right here in Gujarat.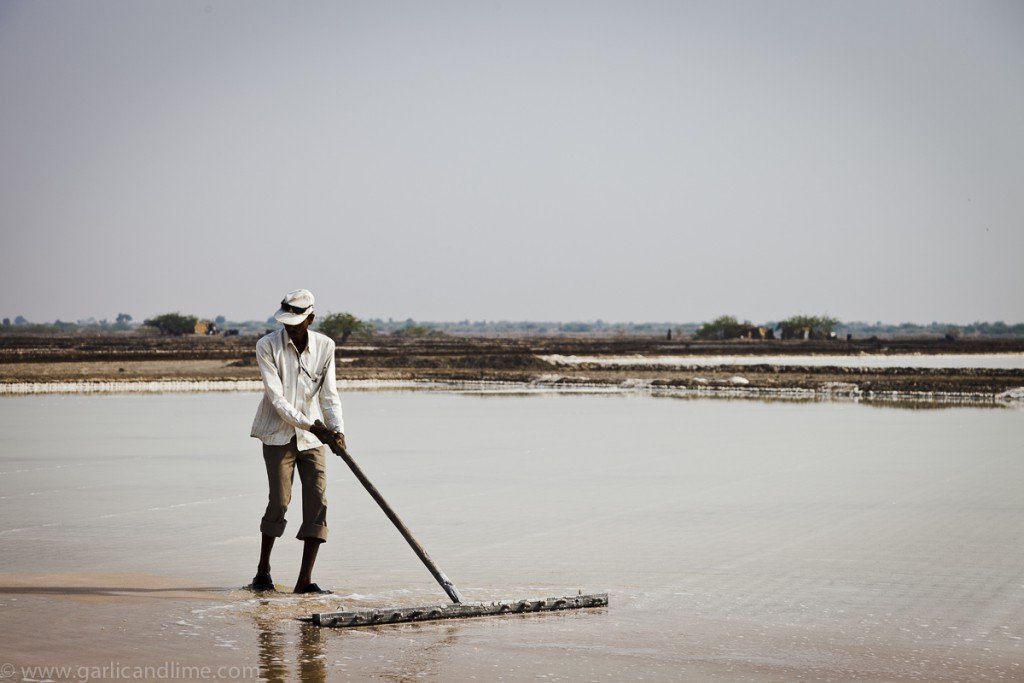 We drove back through traditional villages. Outside mud huts women washed clothes and waved in our direction. Children carried stones on a metal plate on their heads towards men building water lines. A boy on a bicycle tottered to a stop to let us past, his load on the back was too big for the strength of his legs, and he wobbled across the road in our dust as we left. This Gujarat seems a long way from it's fame as one of India's best developed states.
Modhera Sun Temple
50km away the Modhera Sun Temple is virtually unknown outside this corner of India. Even a colleague who used to work in this part of Gujarat hadn't heard of it, or the nearby Patan Temple.
Dating from 1000 AD it features a geometrically carved tank from which worshipers can purify themselves for the worship of the Hindu sun god Surya.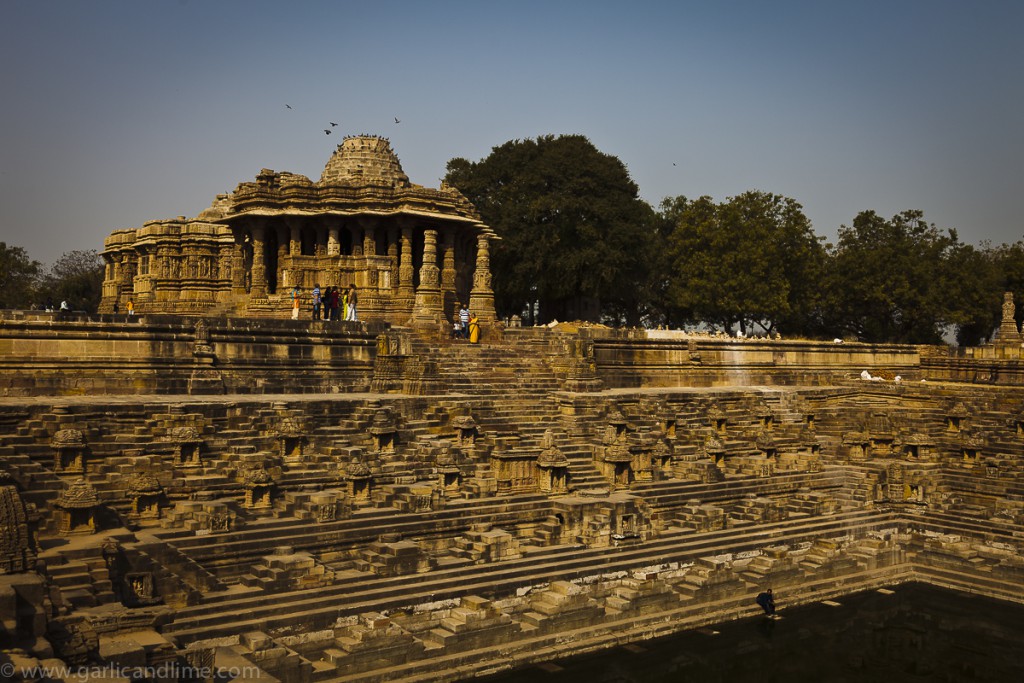 The temple itself is richly carved and there are also example of erotic art within the carving of the temple. At the time it was built it was seen as an act that brought about fertility and it was neither suppressed nor moralized. In fact it wasn't until the British reign of Queen Victoria that such things became frowned upon and the long arm of the British empire had its effect in India as suggesting women should be covered, and erotic temple art frowned upon.  Take a look at the exterior walls of the main temple itself to find it.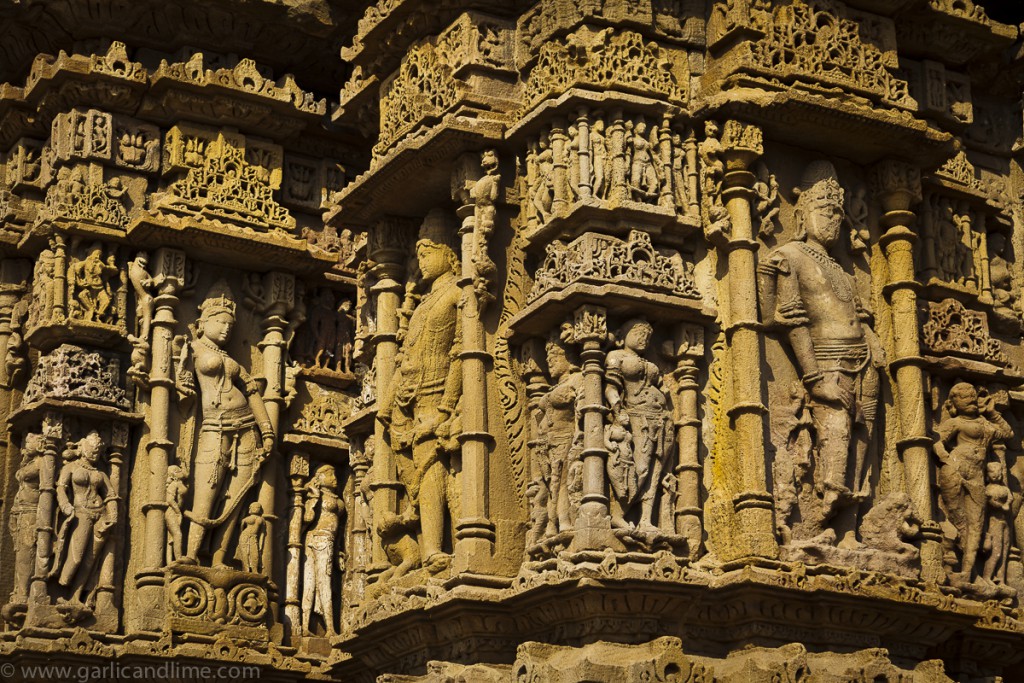 We didn't manage to fit in a trip up to Patan, but the Jain temple of Patan and Rani ki Vav stepwell are both worth seeing if you can fit them into your trip.
Adalaj Stepwell
Heading back towards Ahmedabad, the Adalaj Stepwell in Gandhinagar was built in 1499. Intricately carved, and five stories in depth, it was built by a Muslim king to collect rain water and has long been a stopping off point for travelers to cool down and collect water on their travels. In a state known for its droughts, water collection and protection has long been held high in importance, as the intricate carving on this beautiful stepwell shows.
It is still visited by travelers, although this has now resulted in it being unceremoniously positioned next to a bus stop. Crowds of locals shelter from the heat amoungst the cool shade of the stepwell. Cooled from below by the water, it is a welcome respite from the heat. Behind the stepwell a small park shelters those enjoying a picnic or a game of cricket before traveling further.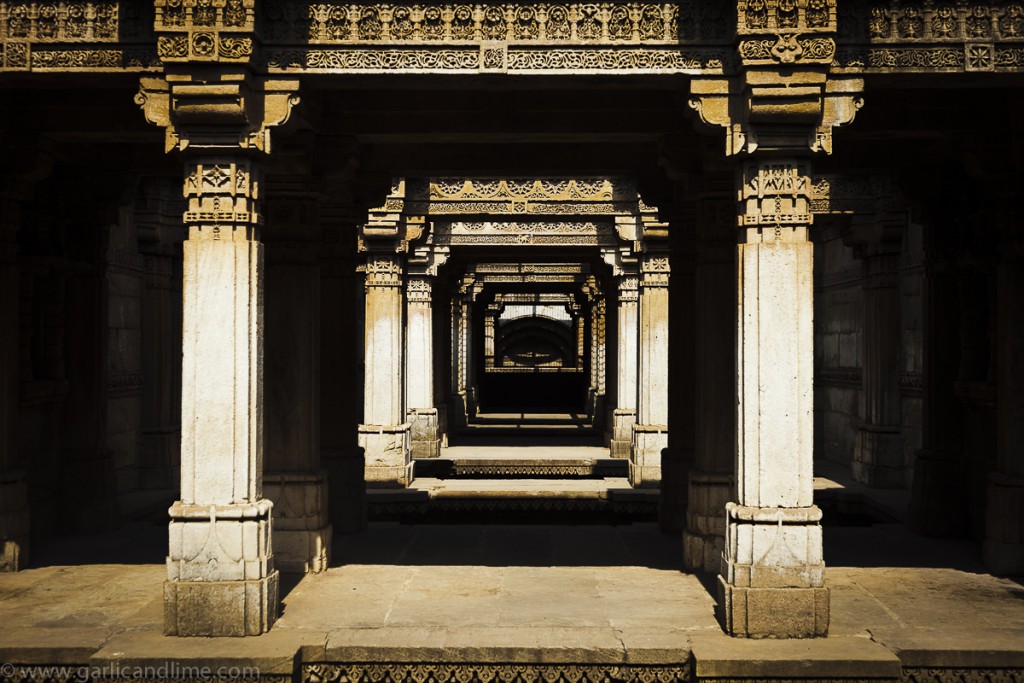 To get a little further taste of Gujarat, you can enjoy Big B telling you a little bit more about "Breathing in a bit of Gujarat"
Architecture of Gujarat – including Modhera Sun Temple
Rann of Kutch
Gir Lions
Somnath Sun Temple
SaveSave