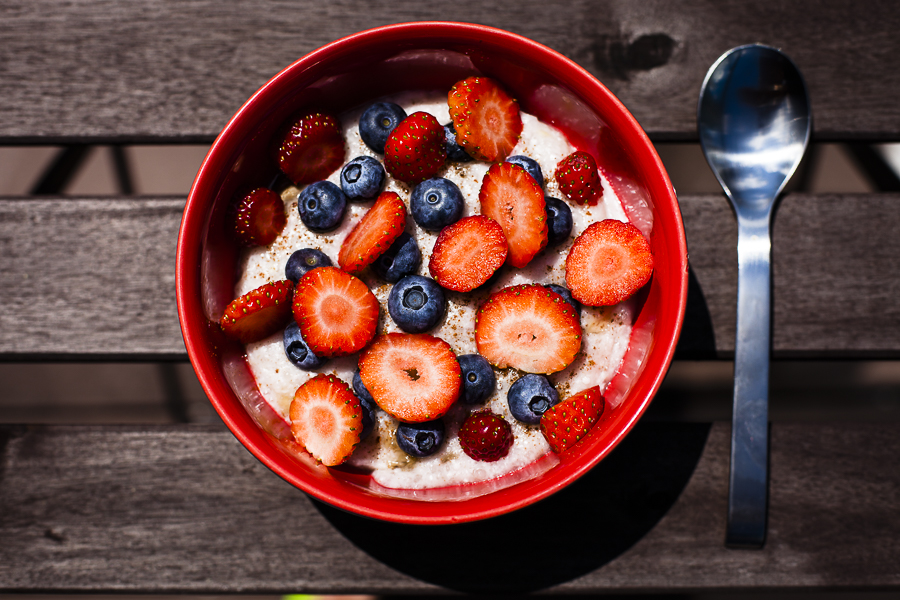 One of the most difficult things we found in adapting to our new lifestyle was "what to do with breakfast?" I mean, how do you do breakfast without toast or muesli? As a child growing up my mother used to make a sago pudding. It was a rich and creamy treat, and I thought we must be able to adapt it into a breakfast porridge. This has become our go to start of the day.
Ingredients
300 ml of water
75ml sago pearls
50ml grated (desiccated) coconut
100 ml coconut milk
2 bananas, sliced
1/4 tsp cinnamon
Directions
Combine the water, sago pearls, coconut, coconut milk and banana in a little sauce pan and bring slowly to the boil. Keep stirring as it will quickly stick to the bottom of the pan.
As soon as the porridge has reached its desired consistency – after 5 to 10 minutes – take the pan of the heat and transfer the porridge to a bowl.
Sprinkle over the cinnamon, top with the fruit of your choice and add a little splash of coconut oil for some extra creaminess.
About sago
According to Wikipedia, Sago is a starch extracted from the spongy centre, or pith, of various tropical palm stems, especially Metroxylon sagu. It is a major staple food for the lowland peoples of New Guinea and the Moluccas, where it is called saksak, rabia and sagu. A type of flour, called sago flour, is made from sago. The largest supply of sago comes from the East Indies. Large quantities of sago are sent to Europe and North America for cooking purposes. It is traditionally cooked and eaten in various forms, such as rolled into balls, mixed with boiling water to form a paste, or as a pancake. Sago is often produced commercially in the form of "pearls". Sago pearls can be boiled with water or milk and sugar to make a sweet sago pudding. Sago pearls are similar in appearance to tapioca pearls and the two may be used interchangeably in some dishes.
Music to go with it…
Listen on Spotify: Norah Jones – Good morning