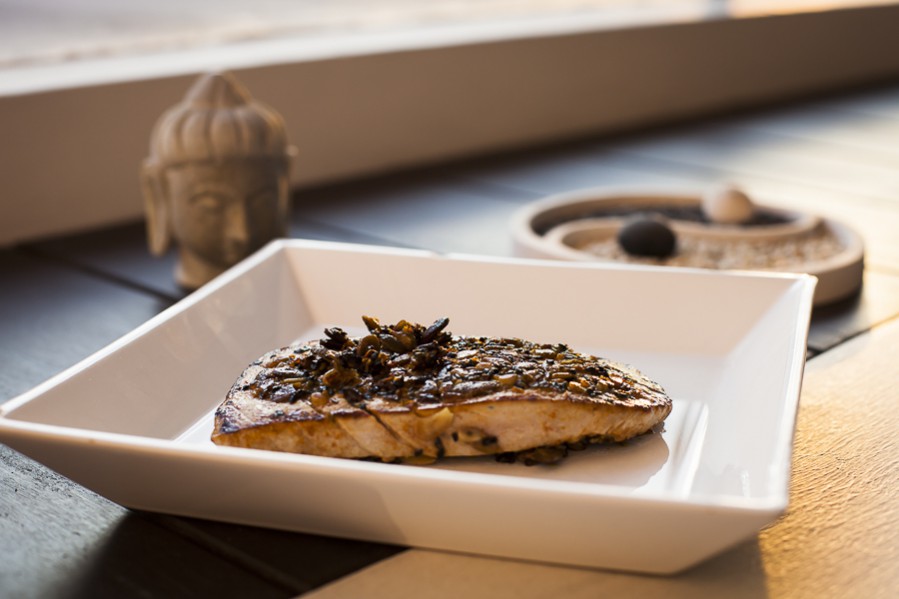 Dukkah (duqqa) is an Egyptian mix of nuts and spices. There is no definitive recipe, with the exact mix of nuts, herbs and spices varying from home to home and shop to shop. Dukkah can be used as a topping for meat (we have used this version with tuna, salmon and chicken), or as dip with bread or vegetables. It is very simple to make, and can keep for a couple of weeks in an air tight container.
Ingredients
2 tuna or salmon fillets
Coconut oil for pan frying
For the dukkah:
1/2 tsp Cloves
1 tsp Fennel seeds
1 tsp Coriander seeds
1 tsp Cumin seeds
1 tsp Paprika
1/4 tsp Turmeric
1/2 tsp chili flakes
Handful of chopped pine nuts, toasted
Handful of chopped almonds, toasted
Handful of chopped cashew nuts, toasted
1/2 tbsp White sesame seeds
1/2 tbsp Black sesame seeds
2 tbsp Honey
Juice of 1 orange
Sea salt
Black pepper
Directions
Toast the seeds in a a pan for around 30 seconds or until fragrant.
Transfer the seeds to a spice grinder (or mortar and pestle) and grind until you have a coarse powder.
Transfer to a little bowl, add all other ingredients and mix.
Place a generous amount of dukkah on the tuna or salmon fillets (top side only)
Fry the fish fillets – skin side first – for a couple of minutes until done.
Serve with Korean carrot salad and (cauliflower) rice.
Music to go with it…
Listen on Spotify: Bony King – Wild Flowers