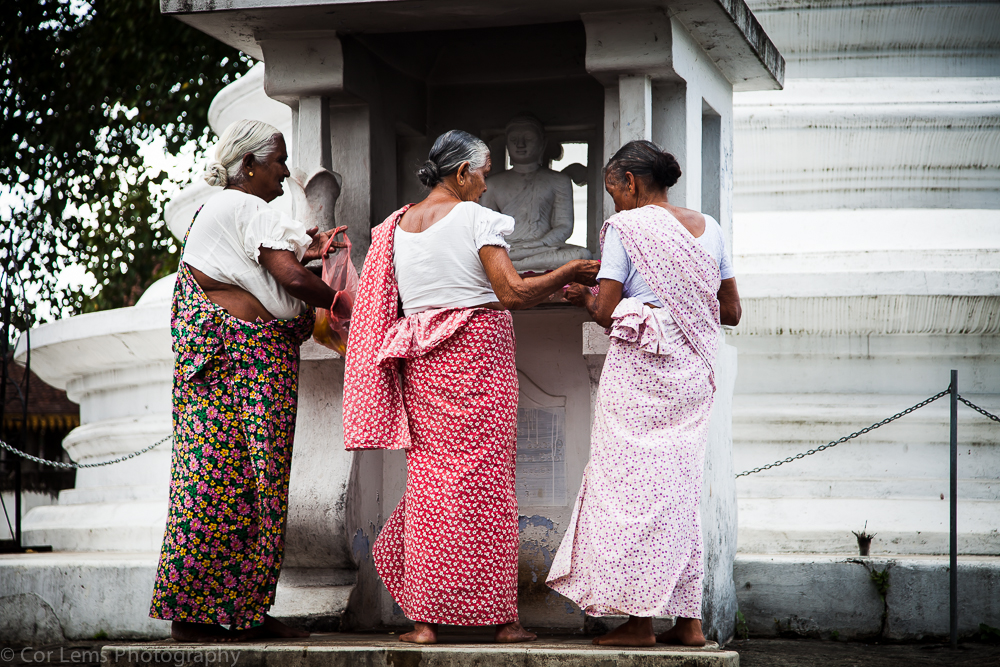 North of Colombo
From Colombo we headed north for a week. You could also do the same, or combine it with the South Coast of Sri Lanka route (in a separate post) in order to create a 2 week trip to Sri Lanka. On this trip we went from Colombo to Kandy and then up to Dambulla. From Dambulla you can make 3 stunning day trips – to Sigiriya, Pollonnaruwa and Anuradhapura (preferably overnight rather than a day trip).
Colombo to Kandy
Colombo airport is north of Colombo near the coastal town of Negombo. Because you don't have to drive through Colombo, it is a relatively straight forward drive of 3 hours up to Kandy.
Logistics
There are 2 main options when it comes to transport – hire a car and driver (for about USD70 per day), or ask your hotel to collect you from the airport. For Colombo to Kandy a car collecting you will cost around USD100, but you won't need a car for the days that you stay in Kandy (you can use a rickshaw / tuk tuk arranged by the hotel to get around as it is not particularly big.)
Alternative you can hire a car and self drive although you need a GPS as while the roads are good, the signage is not particularly. There are several rental hire places located in the airport terminal.
Kandy, pilgrimage city
Kandy is a UNESCO World heritage site, and hill town best known for the Temple of the Sacred Tooth Relic. This is a beautiful pilgrimage site and we spent quite a while wandering around and exploring it. (Do remember to dress modestly and cover your legs and shoulders. You will also be asked to remove your shoes and check them in before entering the temple).
Said to house a tooth of the Buddha, it is the most important Buddhist site in Sri Lanka. Upon entry we were greeted by drummers and followed the pilgrims up the stairs. There was a long queue of women with flowers in their hair and men dressed to pay their respects carrying lotus blossoms and frangipani. Beyond the main hall is a large, open aired meeting hall, and a separate hall housing Buddha statues and beautiful painted scenes from the Ramayana.
Inspired by an episode of Peter Kuruvita's cooking show where he visited the temple and found a quiet niche in which to pay his respects to his departed father, we also found a site of solitude within the walls of the temple, which despite it being a busy attraction is quite possible to do. There are very tranquil areas with monks in prayers that were a pleasure to seek out.
Around Kandy
From Kandy I did a half day tour by Tuk Tuk / rickshaw through the countryside to visit 2 other temples; Lankatilake and Gadaladeniya Temples.
Gadaladeniya Temple is a relatively simple stupa (rounded temple shape) structure which had a roof constructed over it to protect it from the elements when I visited. The site is Buddhist, but there is also a Hindu annex at the back. The location is very peaceful with lotus blossoms growing amoungst the ponds, and it was a nice pause on the way to Lankatilake.
You approach Lankatilake through rice paddies, and past a small school. It is set on the top of a hill with a magnificent view over the fields. At the front of the temple is a locked room containing a Buddha image surrounded by painted walls. The monk opened the room for me to have a look, and explained that it was from the 7th century. The gold embossed walls on a dark red background were very beautiful, and it was all the more special for being in there alone with the monk.
The temple also features carved elephants, Kandy period paintings, a Hindu praying area and rock face inscriptions. There were hardly any other people visiting while I was there and it was very atmospheric. Actually it was one of the highlights of my trip because of its simplicity and location.
Villa Rosa Hotel
In Kandy we stayed at Villa Rosa hotel. Situated on top of a hill it has beautiful views out over the valley beyond from the restaurant and many of the rooms. The food was very good (although we only ate Sri Lankan food while we were there) and the room was generous in size and decorated with local antiques. There is also a library area where you can relax, and a large enough piece of grass for a little football game for Liam.
Kandy to Dambulla
From Kandy to Dambulla we again asked the hotel to arrange us a car and driver. It is around a 2 hour drive, but it took us longer as we stopped at Aluvihara Monastery on the way.
Aluvihara Monastery has a series of caves featuring reclining Buddhas amidst painted rooms, and some bizarre scenes of devils meting out punishments to sinners (not for kids – although they can enjoy the rest of the monastery). Attractively located amoungst large boulders which have fallen from the nearby mountain. We climbed up onto one of them for beautiful views to the mountain, but you could also climb further up to the large Buddha statue further up the hill for more views if you wish.
Dambulla Cave Temples
The highlight of a trip to Dambulla are the Cave Temples. As we hiked up to them, we paused to look back towards Sigiriya Rock which is clearly visible some 20km away. The history of these caves is thought to date back to the 1st century BC, but the Buddha statues and wall paintings are remarkably well preserved given this long history. In total there are 5 caves and some 150 Buddha images.
We combined it with our drive up from Kandy and stopping in Aluvihara to make a rather long (and hot) day, but it is quite possible to do this if you are on a tight schedule. (Don't forget to bring your own water with you though, as the site is exposed to the sun during your walk.)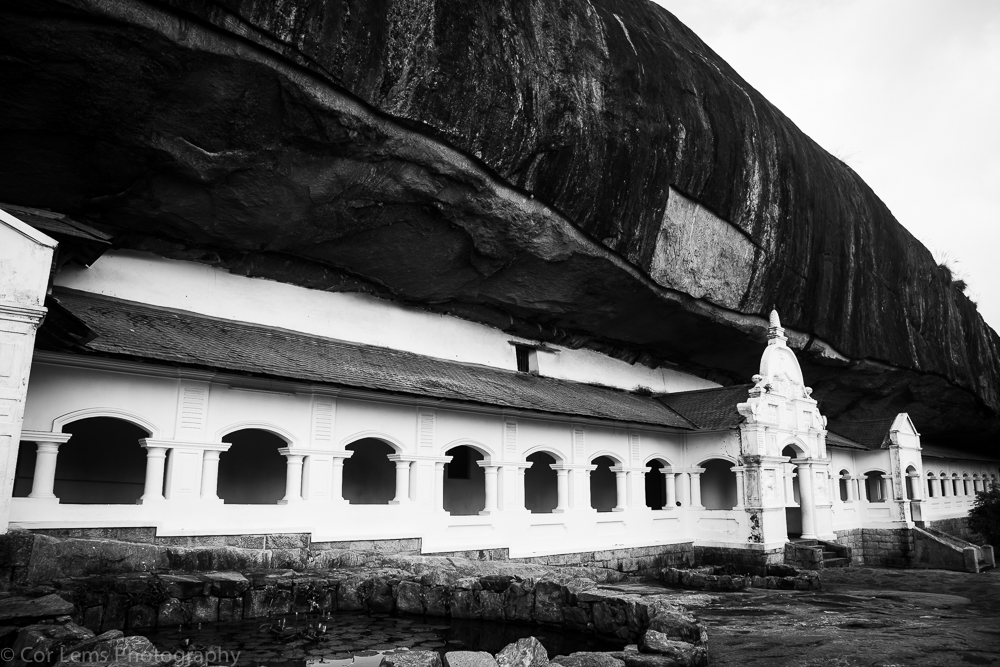 Kalundewa retreat
Our hotel in Kalundewa is one of our stand out hotels in Asia. Our room was one of 2 in a glass box sitting in the middle of a small lake. You share the living room and plunge pool, but when we were visiting we were the only guests booked in. The hotel has other rooms that are bungalows nestled amoungst the rice fields. Hornbill birds were flying around our room at dusk, and we walked amoungst the rice fields while we waited for dinner. It was quite magical!
Dambulla day trip to Sigiriya
From Dambulla to Sigiriya is a half hour drive. From there we walked up to the top of the grand rock and enjoy the rock paintings on the way, and the ruins of an old palace or temple (the exact origin is disputed) that sits atop it. The views over the surrounding countryside are quite stunning, and the walk up was well worth it.
Polonaruwa, heritage city
Polonaruwa is a former capital city of Sri Lanka and is a UNESCO World Heritage Site. It is around 1 1/2 hours drive from Dambulla and you can easily spend a day wandering around it. We tried to squeeze it into the second half of our day trip to Sigiriya, but it was a bit tight. We were very hungry and tired from walking up the rock, and ended up rushing it more than it deserved.
That said, it was well worth the trip. At around 1000 years old, it is quite well preserved, although on a smaller scale to Anuradhapura (which we did not end up visiting, but would love to go back to visit).
The Royal Palace Group, Quadrangle area and Gal Vihara were stand out areas of the ruins, with the last housing beautiful buddha images which are housed under a roof to protect them from the elements.
Sri Lanka, a gem to be explored futher
Somehow Sri Lanka has captured a little piece of our heart. It is a place that we would love to go back to again and explore even further. Anuradhapura, The Horton Plains National Park and World's End, and Ula Walawe National park with its elephants are all still on our wish list. So who knows, maybe we will have to plan another escape back to Sri Lanka soon.
---
You might also like: