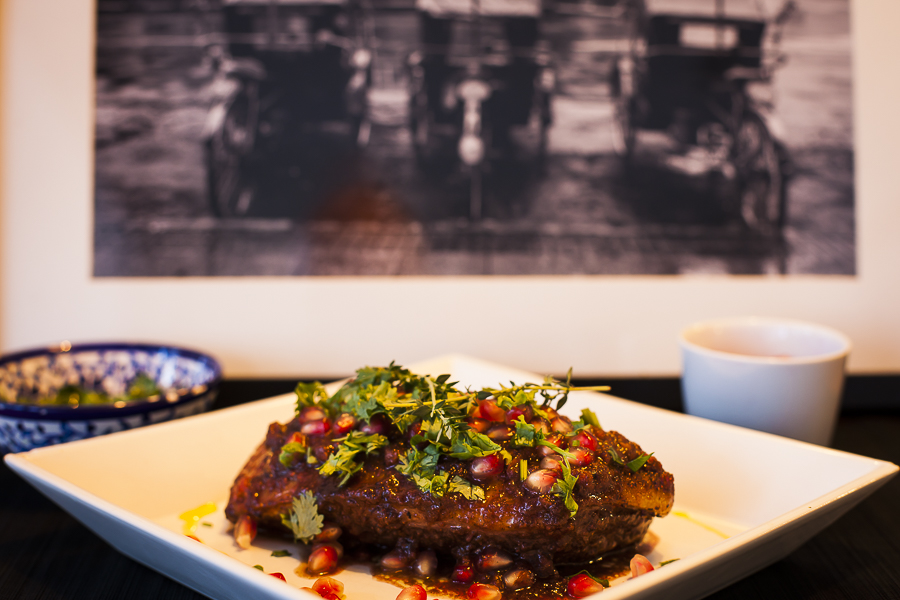 Duck is a flavorsome meat, and this powerfully flavoured sauce makes a rich combination, that is quite impressive to serve. The ingredients can be a little expensive to buy, but it does make a wonderful dish for a special occasion. Serve with a salad and sweet potato chips.
Ingredients
2 large duck breasts, skin on
coconut oil
sea salt
freshly ground pepper
Pomegranate seeds to garnish
Fresh coriander to garnish
Sauce ingredients
2 spring onions, chopped
2 garlic cloves, chopped
1 cm fresh ginger, peeled and chopped
100 ml organic pomegranate juice (check the label carefully to avoid added sugar and additives. The one we found was in a glass jar, and imported from America.)
1/2 tsp ground cinnamon
1/2 tsp ground allspice
pinch of freshly grated nutmeg
1 tsp manuka honey
50 ml fresh orange juice
pinch of ground cloves
5 thyme sprigs
Directions
Preheat the oven to 180 degrees Celcius (350 degrees Fahrenheit)
Make a few cuts in the fat / skin of the duck breast. Brush with a little coconut oil and season with sea salt and freshly ground black pepper.
Fry in an oven proof pan for 5 minutes skin side down on a moderate heat. Turn the duck over and cook for a further 2 minutes.
Put all of the sauce ingredients into a blender and blend until smooth.
Pour the sauce over the duck, and put the pan with duck and sauce into the oven to cook for around 5 minutes (depending on the size of the duck breast it might take a little more or less time).
Garnish with fresh coriander and pomegranate seeds to serve.
Music to go with it…
Listen on Spotify: Burning Spear – Marcus Garvey / Garvey's Ghost