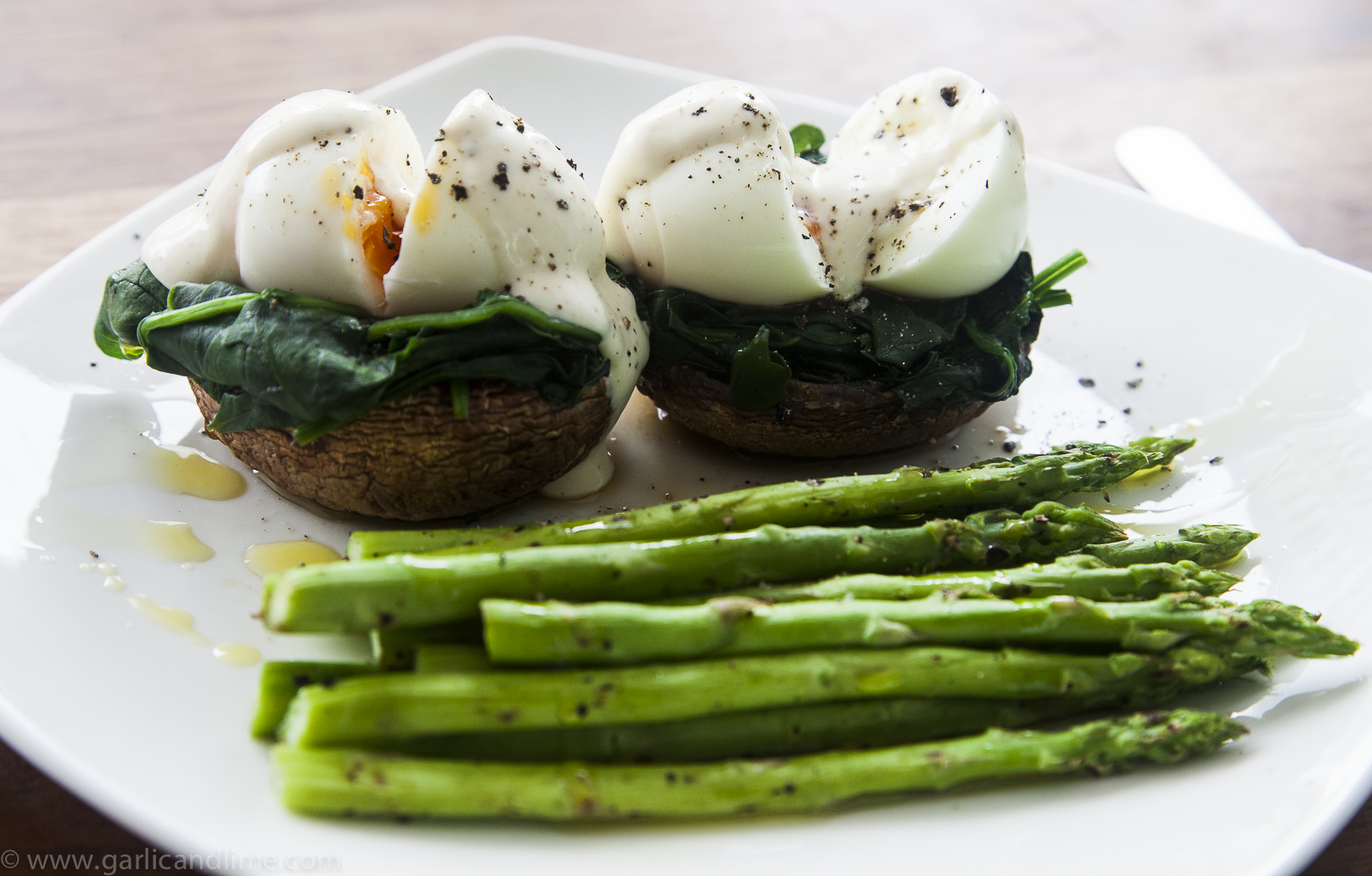 Some mornings call for a hearty breakfast. Living in New Zealand, Eggs Benedict is a classic that you find on almost every cafe menu, and for which you find almost as many variations. This one uses mushrooms instead of bread, and you could add grilled or smoked salmon or pan fried bacon to this recipe if you like.
Ingredients
Directions
Prepare the mayonnaise using the homemade mayonnaise recipe.
Mushrooms: Cut out the stems of the mushrooms to give an open well. Sprinkle with sea salt, freshly ground black pepper and a little olive or coconut oil
Cook the portobello mushrooms in an Air Fryer for 5 minutes at 200 degrees Celsius (400 degrees Fahrenheit), or in a hot oven for 10 minutes at 200 degrees Celsius (400 degrees Fahrenheit).
Eggs: You can either boil or poach the eggs. I found it easier to boil them as I didn't have to watch over them and could prepare the rest at the same time. Boil the eggs for 6 minutes in a pot of boiling water (for eggs that are still a little runny), or poach them until they are cooked to your liking.
Wash the spinach in leave to sit in a draining colander.
Asparagus: Heat a grill pan over a medium to high heat. Trim the ends off the asparagus. Sprinkle the asparagus with a little sea salt and freshly ground black pepper. Cook at a medium high heat for 4 minutes, stirring frequently to avoid burning. When the asparagus is cooked, remove it from the pan.
Spinach: In the same pan that you cooked the asparagus in, add the spinach (which should still be a little damp, but not wet from washing it) to the pan and stir quickly. It will cook rapidly in the steam of the water that you used to wash it in. Cook it only long enough so that it wilts. Do not overcook. It will take about 1 minute.
Putting it together: Place the portobello mushrooms on a plate. Spoon 1/4 of the spinach into each of the mushrooms. Shape the spinach a little to make a little well if you have boiled the eggs so that they do not fall off. Top each mushroom with the peeled boiled egg, or poached egg. Drizzle over some homemade mayonnaise. Grind over a little more black pepper and a sprinkle of sea salt. Serve with the grilled asparagus for a hearty breakfast.
Serves 2 people.
Music to go with it… we've paired it with another kiwi classic – Bic Runga
Listen on Spotify: Bic Runga – Anthology