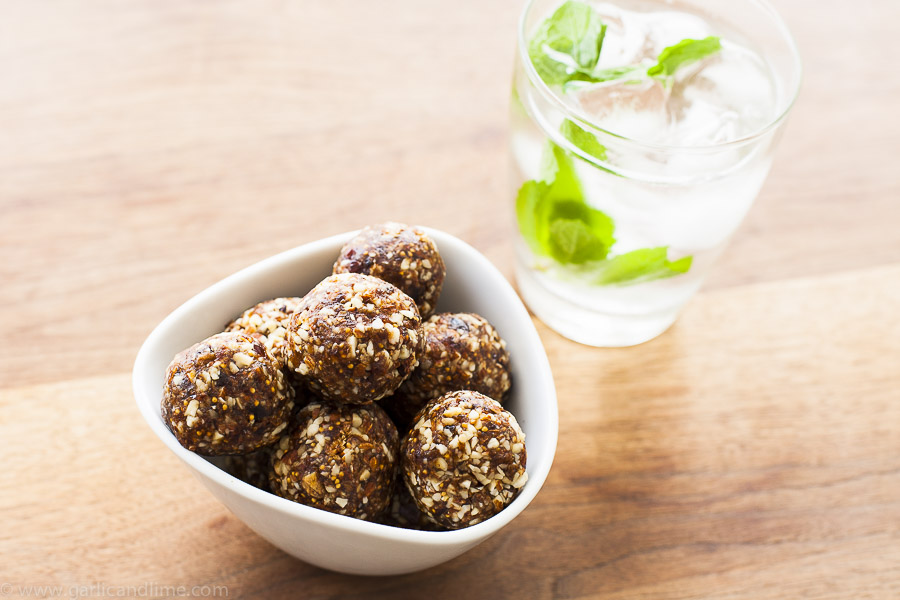 We like to have some healthy snacks in the fridge that we can call upon when we are getting a bit grumpy before dinner is ready. These snack balls can be made ahead of time and stored in the fridge for a couple of weeks. Given that they are made of all shelf stable ingredients, they are also a perfect addition to kids lunchboxes. You could also add cacao nibs or roll them in desiccated coconut for a couple of variations.
Ingredients
1 cup mixed nuts (eg brazil nuts, cashew nuts, almonds, hazelnuts, walnuts)
1 cup dried figs, stem removed and roughly chopped
1 cup dried dates, roughly chopped
Directions
Place the nuts in a foodprocessor with the metal chopping blade inserted. Chop the nuts for about 1 minute to small chunks
Add the figs and dates to the foodprocessor and process further until all the ingredients are finely chopped. It may start to form a ball.
Form the mixture into balls by squishing it tightly between your hands, and then rolling them between your hands into a uniform shape
You could also roll the balls in desiccated coconut if you would like to vary the recipe.
Store in a container in the fridge. Makes around 15 balls.
Music to go with it…
Listen on Spotify: Ewert and the Two Dragons – Circles