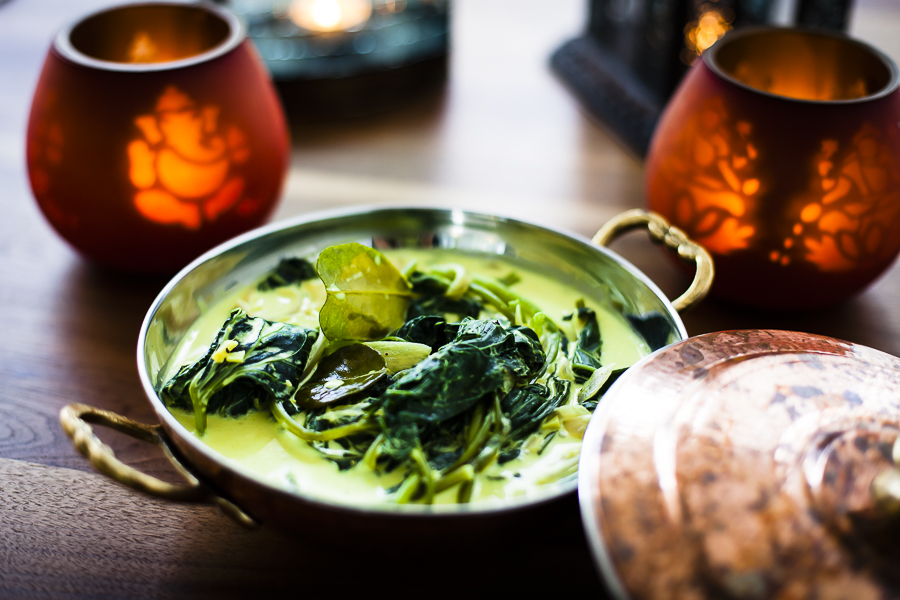 Sweet potato leaves are not a very common ingredient to find outside Asia. Try looking for them at your Asian food stores, otherwise you can substitute for spinach in this recipe.
Ingredients
400 gr sweet potato leaves
1 red onion, finely sliced
3 garlic cloves, finely chopped
3 cm fresh ginger, chopped or grated
1 tsp ground fenugreek
2 tbsp coconut aminos
Salt and pepper
Handful of kaffir lime leaves, shredded
400 ml coconut milk
200 ml water
Directions
Cut of the stems of the sweet potato leaves.
Wash the leaves and steam the leaves with a small splash of water for 1 minute.
Transfer the leaves to a bowl of ice cold water to stop the leaves from cooking.
Drain the leaves and set aside.
Heat the coconut oil in a frying pan and fry the onion, garlic, ginger and lime leaves for a couple of minutes until fragrant.
Add the fenugreek and fry for another minute.
Season with the coconut amines and add the coconut milk and water.
Add the sweet potato leaves and simmer until the sauce has thickened a little.
Season with salt and pepper and serve with coconut rice or rice.
About sweet potato leaves
Sweet potato leaves are primarily eaten in Asia and Africa, but can be found further afield in Asian food stores or sometimes in your supermarket. They can be substituted with Spinach where you are unable to find sweet potato leaves.
Music to go with it…
Listen on Spotify: Zee Avi – Zee Avi