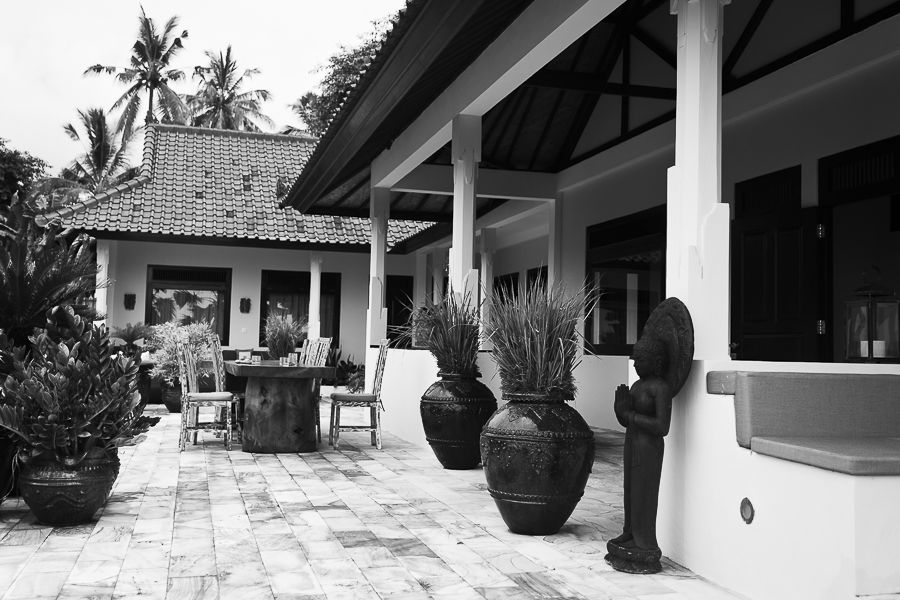 As a mother who works full time, juggling can be a struggle and the combination can get stressful at times. Over the last few months it has felt like a perfect storm of stress and I started to feel the stress in my neck, my lower back, and in stress headaches that started creeping down my temples.
Now, normally I would have taken the attitude that I could work through this, not to worry, but over the last year I have learned that this is actually not working for me. My health is not going to take care of itself, and it is time to look after myself better.
As a result, I decided to go to Bali on a 5 day retreat. It is the first time in more than 10 years that I have gone away on my own other than for work, and certainly the first time since my son was born that I have taken this much time for myself.
The Villa Flow package
Villa Flow is a boutique resort of just 6 rooms on the East Coast of Bali. It is 2 km from the Ujung Water Gardens, 40 minutes drive from Amed to go snorkeling, and 2 hours drive from Ubud or Kuta. It is wonderfully, unashamedly, in the middle of no where.
I had a booked a 5 day Yoga and Spa package, which includes 4 yoga sessions with an instructor, a full body massage, a red rice full body scrub, a facial, and dinner and breakfast each day.
Relaxation at Villa Flow
Determined to make the most of my relaxation time, I had left behind my IPad, did not make a connection to the wifi on my phone, and brought paperback books with me instead. I have found myself diving onto Facebook as soon as I get up in the morning, and reading 4 different online newspapers before bed, and none of this really seems to be helping.
The hotel is beautiful. Each room has a large attached bathroom, and the "Room with a View" rooms open out onto a large upper courtyard with couches and table that look out to the ocean. The hotel is small enough that you have a lot of privacy and can relax upstairs, next to the pool, or in the downstairs relaxation area, all of which I used for reading and relaxing.
Yoga at Villa Flow
My day started each day with a yoga session with Kawi. He adapts the session to the level of the participants in the group, and the sessions I had ranged from a very simple session with others who had never done Yoga before, to a more advanced session with a fellow guest who was a dancer. I really enjoyed the more spiritual side that he brought to the yoga practise, infusing meditation and visualisation techniques into the session, and talking about the origins of yoga. It brought me to the realisation that yoga is far more than exercise.
The Food at Villa Flow
The yoga session was followed each day by breakfast with a view to the ocean. The hotel follows a health concept approach to food, using ingredients from their organic garden. Vegetarian, Gluten Free, Dairy Free and Vegan can all be accommodated. I also love it that water is available in a large dispenser whenever you like it, eliminating the need for plastic water bottles . I took a water bottle with me and filled it up and carried it around with me wherever I went.
Out and about from Villa Flow
Each day I took a small excursion after breakfast. The first day I walked down to the Water Gardens which are about 2km away. They have been renovated beautifully and I spent some time walking around them and meditating in the pavilion in the middle of the lake. The second day I hired a car to drive me up to Amed to go snorkeling. I had taken my snorkel with me, but you can also rent them from the cafes next to the beach.
The third day I walked down to the hotels private beach, and the final day I made the mistake of doing a day trip to Ubud to go shopping. For someone else this could be a nice day out, but it was quite busy and I had been there before, so it wasn't really what I needed on this trip.
The Villa Flow Spa
I ended each afternoon with one of the included spa treatments. The full body massage is done by an older Balinese man (and his son if there are more than one of you) and he seemed to know far more pressure points in my body than I had ever felt pressed in an earlier massage. The body scrub and honey facial are done by a local Balinese woman in the Yoga Bale and I felt like I had really treated myself by the time it was finished.
I came home from Villa Flow without my headaches, and determined to carry on some of the practises that I had started during the week. Less looking at Facebook, reading the news less often, reading more books, and treating yoga as more than exercise.
You can visit the Villa Flow website here >>
---
You might also like: