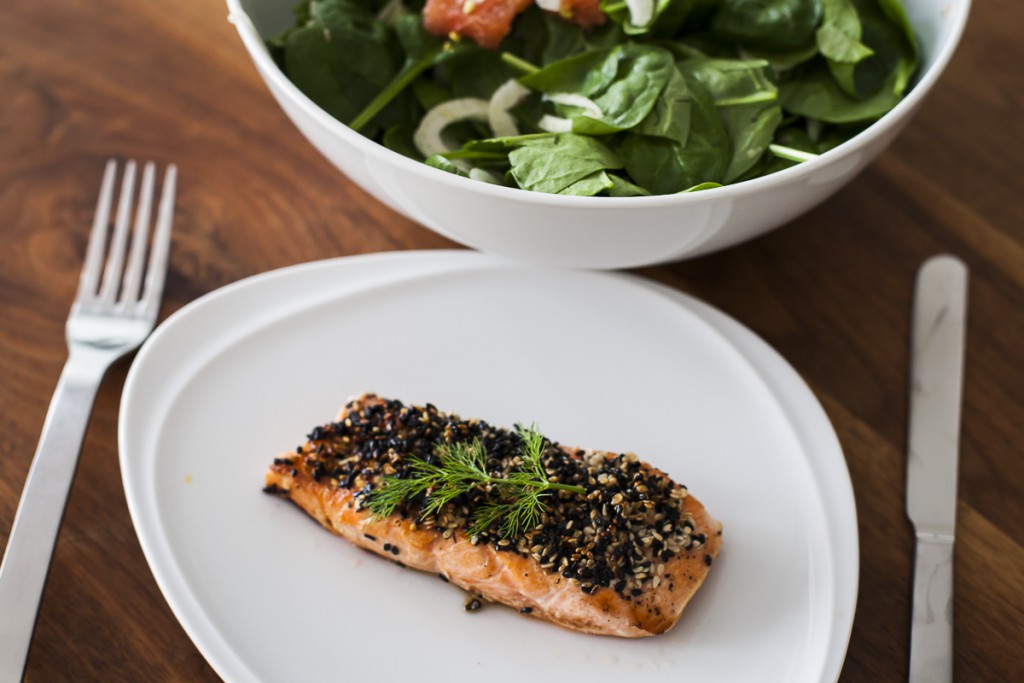 This is a very easy, but visually interesting meal. You could pair it with a baby spinach or rocket salad, with fennel and grapefruit (to use up the grapefruit in the recipe) and Sweet Potato Fries with Garlic Aioli out of the Air Fryer.
Ingredients
1 Tbsp black sesame seeds
1 Tbsp white sesame seeds
1 Tbsp grapefruit juice
1 tsp honey
pinch of sea salt
freshly ground black pepper
2 salmon fillets
Coconut oil
Directions
Season the salmon fillets with sea salt and freshly ground pepper
Mix the black and white sesame seeds, grapefruit juice and honey together in a small bowl
Spoon the sesame seed mix onto the top of the salmon fillets (skin side down, do not put the sesame seeds on top of the skin). Spread the sesame seeds out to form a crust on top of the salmon fillets
Fry in a little coconut oil over a moderate to low heat until the salmon fillets are cooked half way through – skin side down first. Turn over and cook until cooked through. About 2 minutes on each side.
Music to go with it…
Listen on Spotify: Marisa Nadler – July