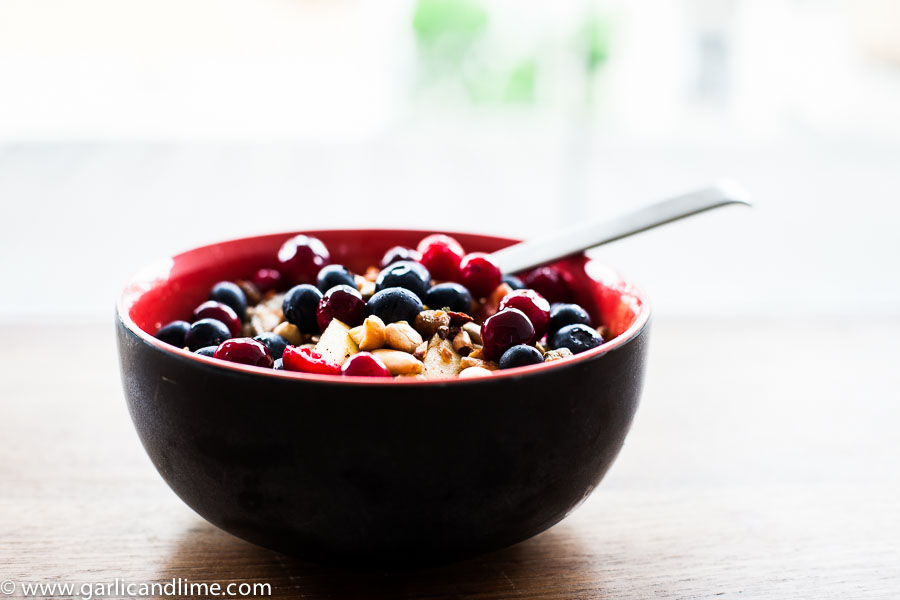 Breakfast is the most important meal of the day, but not the easiest when you are trying to avoid processed food. We have become so conditioned to toast with spreads, or muesli with yoghurt that we hardly think of other options for breakfast.
While our Sago Porridge has become our standard breakfast, the one we make without thinking, it is really nice to have some variation, especially variation that can be made ahead of time and whipped up quickly before work. Because let's face it, it isn't as though we suddenly found a whole heap of extra time when we changed our lifestyle, but we did prioritize food and cooking our own meals over television time 🙂
This breakfast muesli was actually created by our son (6). He wanted to make breakfast for us, and started looking through the pantry for things to put in it. Together with Barry he pulled out all of these ingredients, and then with the help of Papa he put them together for our breakfast. It was really good, and worthy of including here. Enjoy!
Ingredients
20g cashew nuts, chopped
20g pinenuts, chopped
20g blanched almonds, chopped
20g shelled pistachios, chopped
1 tsp coconut oil
20g goji berries
2 apples, chopped
4 pitted dates, chopped
1 dried fig, chopped
1/2 tsp cinnamon
good squeeze of lemon juice
pinch of sea salt
Directions
Toast the nuts in a frying pan together with 1 tsp of coconut oil until they are golden brown and crispy. Remove from the pan. Sprinkle with a pinch of sea salt. (Note: This can be made in larger quantities and stored in an airtight container to use later if you like.)
Chop the apples into bite sized pieces. Place in a bowl. Sprinkle with cinnamon and toss to coat all of the apple pieces.
Sprinkle over a squeeze of lemon juice. This will stop the apples from browning.
Chop the dates and fig and add to the nuts.
Stir the nuts mix through the fresh fruit and serve.
it would also be nice to add some fresh blackberries, blueberries, or cranberries to the mix as a variation.
Music to go with it…
Listen on Spotify: Moke – Let it burn